JKB Dodgeball Tournament brings in big crowd for a good cause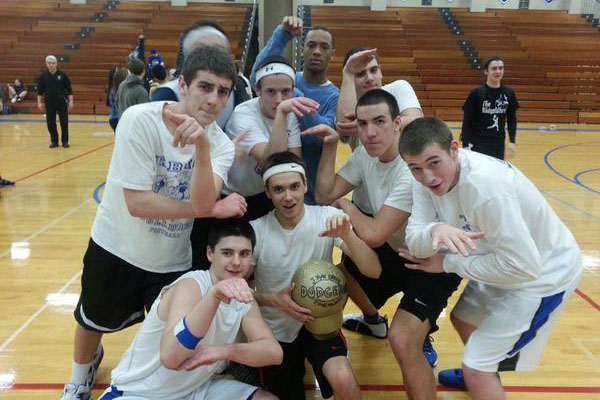 The anticipation has been felt around the school for weeks. The wait has been agonizing for some. Rightly so.  This is, arguably, the most important event in Riverside Brookfield High School's history. This Friday, February 27, JKB will be hosting RB's fourth annual dodgeball tournament.
Some of you may be saying, "What's the big deal? It's just dodgeball."
Oh, but it is so much more than that.
After last year's tournament's amazing success, which saw dodgeball squad, Team Goose, bring home the grand prize of five dollars to Chipotle, the hype surrounding the 2015 edition of the tournament has been unreal. Some sources within the J. Kyle Braid Leadership Foundation are reporting that up to 13 teams have officially entered into the tournament. Of those teams, a majority have created team Twitter profiles, which has only amplified the excitement.
"This tournament is huge," Team Goose Member Sam Abbatacola said. "We won it all last year. So to be able bring home another championship in my last year of eligibility—Wow, that would be special."
While Team Goose brought home the trophy last year, there are many that are looking to dethrone the geese. One of those teams is The Dodgefathers.
"We want to win it all. It would mean so much," Dodgefathers Captain Nick Fucinato said. "When I'm 40 I want to look back at this tournament and say, 'We were champions.'"
While everyone has exuded intense enthusiasm for the tournament, and most are dead set on winning it all, the tournament serves a greater purpose than giving teenagers the chance to throw balls at each other.
RB's J. Kyle Braid members have pledged to donate all proceeds from the tournament to the Swallow family. Denise Rehder-Swallow has been battling ALS, better known as Lou Gehrig's disease, since early 2011.
"Don't get me wrong, I want to win this tournament," dodgeball enthusiast Sam Abbatacola said. "But in the grand scheme of things we all just want to help pitch in for a good cause. That's part of the reason I started the Twitter page. The more hype and excitement we create, the larger the turnout to the tournament, the more money we raise. That's what it's all about."
Although there will only be one champion, everyone will be contributing to a winning cause.