EVERY STUDENT HAS A STORY: Twirling and teaching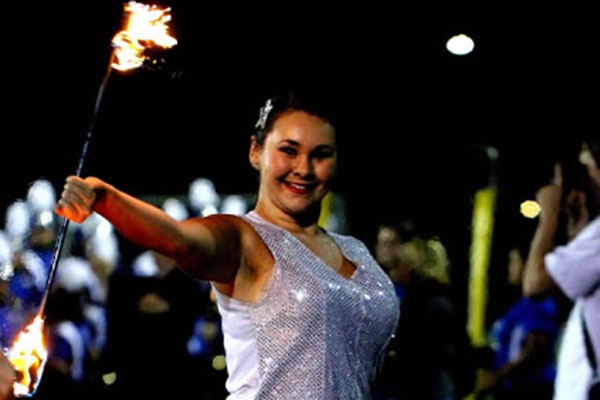 Senior Natalie O'Callaghan can almost always be found with a smile on her face, whether she's in the halls or performing baton. Her senior superlative was "Most Likely to be Mistaken as a Teacher."  O'Callaghan says that people say she's a cross between English teachers Kathleen Harsy and Kathleen Brown.
Besides having an abundance of spunk and character, O'Callaghan has a talent that sticks out. She has been a baton twirler for over ten years.
O'Callaghan's first experience with baton was in preschool. Her mom purchased a toy plastic baton. Even without knowing how to twirl, she was hooked. Her parents had difficulties finding lessons for her, but in first grade, she met the Shaw family (who she still performs with) and started taking lessons with them. She has been twirling since for 11 years. When asked why she does it, O'Callaghan identified with the sport's theatrical nature.
"I love being in front of people, and baton is such a sassy and fun sport you can really 'perform' on stage. I get to be a more exaggerated version of myself," she said.
O'Callaghan continued, "My second favorite part of performing is seeing the audience's reaction after a performance. When you know the audience liked your performance, it's the best, most empowering feeling you can ever have."
She has performed in various events over the years, including Special Olympics Pack the Place, Fourth of July parades, Von Steuben Day parades, and the Illinois State Fair. She also played the role of majorette in RBHS's Spring Musical, Bye Bye Birdie. Among her favorite experiences, she enjoys fire baton at homecoming due to the element of danger and it being a crowd favorite.
O'Callaghan loves how there is never a dull moment at RB, and how something is always going on. She also enjoys the friendliness of the people here at RB.
"Everyone always has a kind word and a smile," O'Callaghan said.
Next year, O'Callaghan will attend the University of Illinois at Urbana-Campaign. Since she was young, she knew she wanted to be a teacher.
"I've wanted to be a teacher since I was in first grade. I would wake up my dad and sister early in the morning and I would play 'teacher' before my sister and I had to go to real school, and my dad had to go to work," O'Callaghan said.
She is currently deciding between Secondary English, Special Education, and Elementary Education. O'Callaghan is also interested in law, and is planning on attending law school.
Although she'll miss RB, O'Callaghan is excited to meet new people among the 30,000 undergraduates at U of I. Although her university of choice does offer baton twirling, she won't be participating her freshman year.