Keep Calm and Play Chess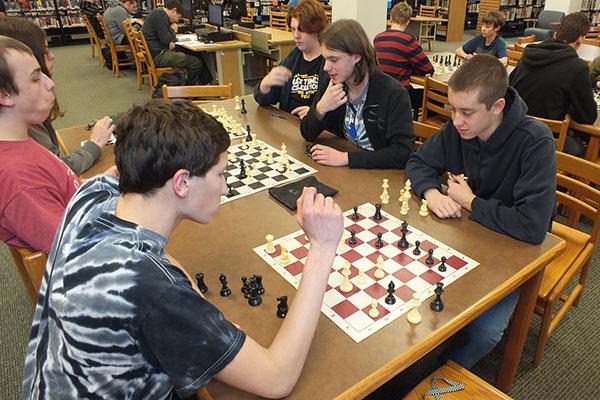 Riverside Brookfield High School's Chess Club is back and ready for action! The 2015-2016 chess season has just begun. So far, Chess Club's numbers have been looking good; eighteen students, but expected to reach twenty for the first match.
Last year, Chess Club unfortunately lost six seniors, who were all three year starters for the team. This year, Chess Club has several seniors, but only a handful have significant state experience.
"(It's) still a little early to tell if we have any outstanding freshman players. We do have two returning sophomores that contributed a lot last year (Jackson Hajer and Luke Graham)", Chess Club coach Dave Monti said.
Chess Club has a few goals in mind for the season. They plan to improve on last years performance at state. Last year they were 76th out of 146 teams.
"The Chess team/ club is having several fundraisers this fall and winter to help students reduce their pay to participate costs", Monti said.
Chess Club plans on having several fundraisers this year. They plan to throw a "Culver's Night" on Wednesday, September 30th, from 5-8pm. They will also be selling popcorn at a couple home football games. After Thanksgiving, they plan on doing a White Sox ticket fundraiser again after Thanksgiving.
Chess Club is also participating in "Adopt a Bulldog Chess Player", where you will have the opportunity to "adopt" or sponsor a specific player on the team, where you can donate money to that specific player. You are able to adopt them at one of six levels, Pawn to King. King is $100 and Pawn is $5. You are not only restricted at $100 or $5, you can also donate, $75, $50, $25, or $15, depending on how much you want to donate.
"Your donation will not only enable a Bulldog to compete in matches and tournaments against other students, it will ensure the continued development of their problem solving and critical thinking skills",Monti said.
Chess Club's first, official practice was August 18. The first match is the Evanston Tournament, which will be held on November 7. The IHSA state tournament will be on February 12 and 13 of 2016, where RB Chess Club plans to make big improvements at.
Good luck to this year's season Chess Club!