Crossing the country for what they love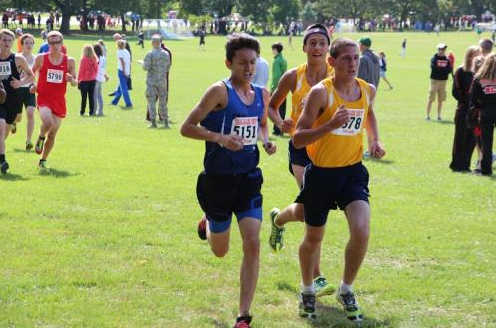 Riverside Brookfield High School's boys Cross Country team has been running wild this year. The 28 boys run for 9 weeks in the regular season and after conference 10 boys are chosen by coach Forberg to run for the next few weeks leading up to State.
The team placed 16 out of 40 at the Detweiller Invite in Peoria during the middle of the season, 4th in Conference, 2nd in Regionals, and 7th at Sectionals. This year is the first year in 6 years that RB Boys Cross Country did not get 1st in Regionals. By not placing in the top 5 at Sectionals, the team did not make it to State. However, Mateo Nunez went to State as an individual.
"Constant improvement. I have to better myself in any area and just really focus." said Mateo Nunez, a Junior Varsity Cross Country runner, "don't let anything get in the way."
With stand-out performances by Jason Noel, Jacob Wardzala, and Matt Zamudio, and positive attitudes from all of the players making the team more of a family than a team, the boys have a stacked team and will have a great season next year and in years to come.
The reasons for running Cross Country are different for every person. Some love the healthy lifestyle, the mental impact, or the rush you get from running. Although, everyone can agree that the bond developed with the teammates is something worth more than words can say.
"Cross Country is a team sport. You're out there just as much for your teammates as you are for yourself," said Senior Varsity runner Andrew LeMesurier. "It becomes a bonding experience instead of an individual misery."
The team runs around scenic Riverside and surrounding areas in order to get better prepared for races. With races at tracks such as one held at Lyons Township High School and others at forest preserves, running around Riverside gives them a good grasp of what race conditions would be like.
The boys run miles every day for distance, time, and consistency. The boys have learned to not waste energy and keep their form.
"You have to be focused on your form because often when you get tired, you start wasting energy. Stay relaxed, stay calm, trust your training, know what you can do," said LeMesurier.
By going from no chance of going to State to a 40th place out of several 100 at State and star runner Mateo Nunez shaving 30 seconds off of a 3 mile race just this year, it is clear that the team is improving constantly. To better themselves, some say that just tweaking their training will be enough.
"Boys Cross Country is one of the more successful teams at RB," said Nunez. Nunez and LeMesurier agree that they put in just as much work as other teams, yet get little credit and attention.
The team works hard everyday and puts in work. The runners get faster and faster, and the races keep getting closer. With practices improving form and perseverance, the runners know how to run in any conditions.
"You need to be focused on what you need to do, and be willing to run in a bit of discomfort. It's not always going to be easy to keep going but you have to keep pushing yourself. Everyone pushing for the good of the team," said LeMesurier, saying what he appreciates about the other runners.
For future years, Nunez hopes to run a 3 mile race in under 15 minutes and the team hopes to place in the top 10 at State. By running a 15:26 minute race at State and being 16 seconds away from All-State, the possibilities are endless. Illinois is the best state in the Nation for cross country, it is no easy task to do well, but the team seems to have accepted the challenge and are working hard at conquering it.
"Be focused all the time and focus on what you can control. Not the people around you, but you yourself," said Nunez commenting on the mindset of running with a little bit of life advice.