Falling back into the Play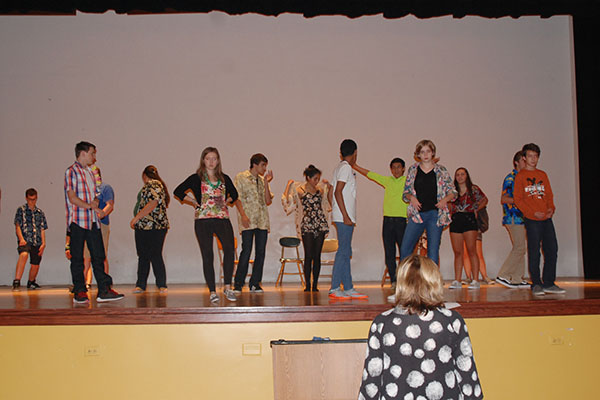 The Fall Play is back! This year's show is The Great Gatsby. 
This year's play is set in the roaring 20's. It is based off a popular literary classic, The Great Gatsby, by F.Scott Fitzgerald.  The book has captivated many and now RB has a chance to captivate the community with its rendition.
But choosing a show for the fall play wasn't easy. Diane Marelli, this year's play director, has read over 70 plays since last year, and read over 25 more during the summer. But finally, Marelli decided on The Great Gatsby.
In October, the cast went through some of the core things necessary for the play to go smoothly. They blocked most of the first act, and started learning and memorizing some dances. With this play being set in the 1920's, it's obvious that there is going to be some swinging jazz and some nifty dancing to go along with it.
"We have done choreography because there's going to be a couple little dances in it, which is really interesting for a play, and that's rare because you'd see that in a musical more often than a play," cast member Rosie Nolan said.
The fall play isn't just about putting on a good show. The cast and crew is a tight-knit family. Whether it's joking during practice, or smiling during dance numbers, this group is just trying having a good time with the show and each other.
With the first show coming up Thursday November 12 , the cast hopes that all their hard work pays off. Members have built their characters, developed the story, and have seen the production come to life during rehearsals.
"It's not so much me, it's them; it's the students. To see how they picture a character, and how they evolve," Marelli said.