The rim reapers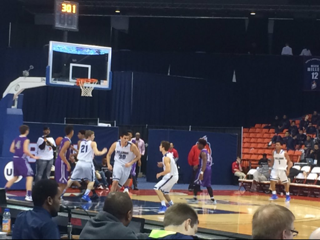 Riverside Brookfield High School boys' basketball has begun. The 2015-2016 varsity team hopes to have another long season leading into March.
This year, the Bulldogs hope to win their 15th consecutive conference championship and to win the holiday tournament.
"We would like to take a survive-and-advance mentality into each and every game we play," said head varsity coach Tom McCloskey.
The boys have a very packed schedule during the season and in the off-season. With a win at the Thanksgiving Tournament and the upcoming York Christmas Tournament in mid-December, the boys and coaches have a very busy season. The team is also a part of an entirely different and extremely tough non-conference schedule during the season which gives them an advantage when they play teams their size.
On Saturday, December 5, the boys took on Gonzaga Preparatory High School from Washington D.C. The boys fell to Gonzaga with a tough 78-64 loss.
"We improve by doing things the right way, day in and day out," McCloskey said, explaining how practice does not make perfect, but perfect practice makes perfect.
Every activity is similar in the sense that there is a pep-talk before a big event. Something McCloskey makes sure the boys know all season long is to take nothing for granted.
"I tell them that their time playing basketball at RB is going to fly by and they should take advantage of the opportunity because once it ends, there's no turning back on their careers. So many of our past players come back to visit us and attend games and tell us how much they miss it."
The boys realize that they have a limited time playing basketball at RB, so they work hard to work hard to get along with each other and enjoy the sport.
"We have to be ready for everyone because everybody we play will be sky high against us," McCloskey said. "I think we are capable of having a big year and accomplishing a lot. We have to play as a team and keep the team the focus."