An update on the HERO system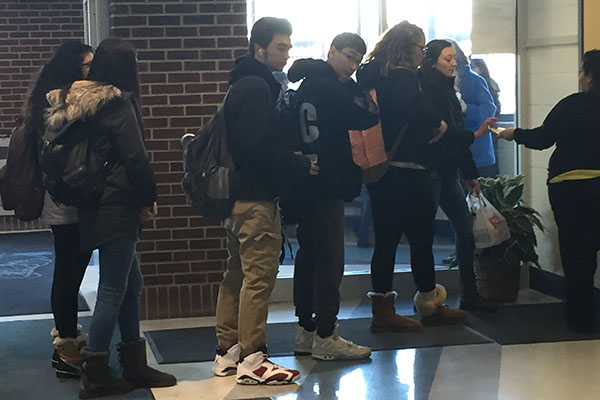 It's been almost two weeks since Riverside Brookfield High School rolled out the new HERO system. The HERO system is a program that helps keep a digital record of the tardies students receive. If a student does not make it to class on time they are asked to find a security guard in the building to scan their ID so they can receive a pass to return to class.
"Every (security) guard has their own scanner on them. We have five security guards and one is always in the welcome center. So we have four on the floor, plus the two deans have printers on them as well," Mannon said.
Stations for the HERO system are scattered around the school. Their main locations are by the G2 stairs, door A, in the art wing, and near the field house.
"That's always going to be consistent. We are going to have another scanning system by the Alumni Lounge. That's going to be a little bit quicker. That's going to be a stand alone station so we are going to implement that next week. That will speed things up down by the G2 stairwell," Mannon said.
Families are also notified right away once a student receives a tardy.
"We have the capability now when as soon as a scan goes in, an email will go to the family and tell you where you're at. If it's a warning, or if you're on number three if its consequential. It keeps the guardians up to date. It's a new feature," Mannon said.
The HERO System also serves as a way to keep track of students entering and exiting the building. Right before a student leaves for the day (i.e. for a doctor's appointment) they must have their ID scanned, as well as if they're entering school late for any reason.
The system also keeps a total of the tardies. There have been a total of 352 tardies from Tuesday, February 16, 2016, to February 19, 2016. That's roughly 17 tardies per period. Most of the tardies are occurring during first period (the highest), fourth period, and fifth period (both hours are tied for second highest).
Mannon sees this as a consistent approach. Before, teachers would have to stop class in order to mark a tardy right away. Now, the student just comes in with their pass and the teacher can continue with their lesson without disruptions.
Teachers have been very happy with this, especially band director James Baum. It helps him get the students in the band room and ready to play without losing practice time.
"Staff is completely 100% on board. They have been doing a great job," Mannon said. "The students, I think, are doing a great job. You look at 1,600 students and we only have 300 (tardies). Students are getting the hint that emphasis has been put on to getting to class on time, and that's all we want. And they have responded really well. Parents have been in support of it."
The system will remain for the rest of the school year, seeing as it has met the goals the administration was hoping for.
"It's been successful at limiting the distractions in the hallways. And ultimately hopefully we'll cut down on altercations too," Mannon said.