Prom finally "unmasqued"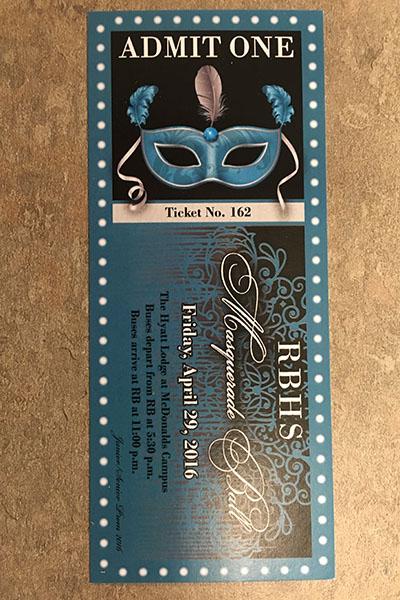 Prom once again is sneaking up on all of us! Prom will be held on Friday, April 29.
This year prom will be held at the Hyatt Lodge in Oak Brook. The theme has been announced as a "Masquerade Ball."    
"As a group, all the officers came together and a lot of people requested it, so we did as much as we could to make it happen (the theme)," Junior class president Maggie Shereck said.
A few things this year will be changing from previous RB proms. A full sit-down dinner will not be served, but rather instead there will be various appetizers to choose from.
"It's not a full sit-down dinner, but there still is dinner," Shereck said.
Before leaving students will also have the chance to grab a quick McDonald's cheeseburger before returning to the busses to go back to RB.
A new prom court, as well, will be introduced, where students will be able to choose five senior boys and five senior girls before the day of prom. During prom, the attendees will vote to decide who they would like to be their King and Queen, a new aspect brought to RB's Prom.
"At the end (of prom) the winner will be announced," Shereck said.
As a favor, students will also receive a black eye mask on a stick, where later, students will have the opportunity to decorate it at a station. Students will not be allowed to wear masks that are tied around their head due to security issues, but will be allowed to use masks on sticks.
Students are expected to arrive at RB at 5:30 pm on April 29 and go directly to the student cafeteria as well as ride to prom on a charter bus to the Hyatt Lodge. Students will return to RB at the end of the dance.
Tickets will continue to be sold through April 18 in the bookstore during all lunches. To purchase a ticket, you will need a student ID and all fees paid. If you are bringing a guest outside of RB, you will need an approved guest pass as well. Tickets cost $80.00 per ticket.