Swinging into the softball season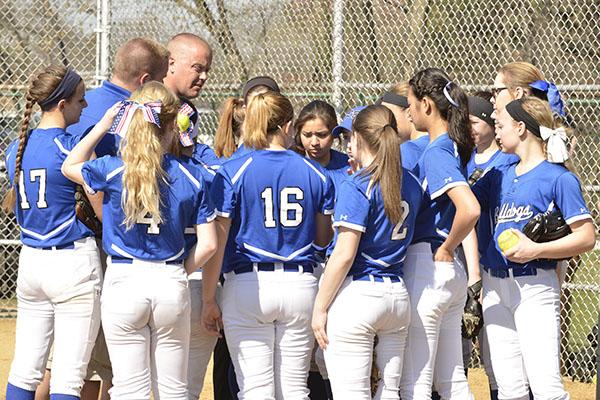 As softball swings into action, the RBHS girls varsity team aims to progress their 3-6 record, improve on their offense, and play better as a team. Throughout their three month season, the team plays roughly 30 games and practice two days a week.
With promising underclassmen and only four seniors graduating, head coach Doug Schultz sees this team as the next step in going through Sectionals, Regionals, and State.
"RB needs to know the tradition [of strong softball teams] is here and it has a chance of coming back and I see this group as being the next step of the tradition coming back," said Schultz. "Once we get more consistent with the young players then they will build on that success and drive the team forward."
The team has been focusing on different types of hitting including slapping and bunting. However, working too much on the offense plays has brought the team down in defense. By perfecting double plays and bunt returns the team is strong in terms of both offense and defense.
Cameron Shaw, a Junior on the Varsity team explains that softball is a 25% skill game and 75% mental. To improve on the skill part of the game, Shaw uses a hitting stick everyday which helps with her hand-eye coordination and goes to Stella's to work on all types of hits.
"Physically, softball is a fast pace game with something happening every minute. It's non-stop intensity. But mentally, these girls are my family, and softball makes friendships so real on and off the field," said Shaw.
To make the sport even more fun for the players, the team has Friday themed practices. Some of the themes include crazy blue and white, Cubs vs Sox and Pajama practices. Schultz and Shaw describe the girls as a "goofy bunch" and they appreciate the team's hustle and heart.
"Focus on the little things that are keeping us behind in the game instead of getting us ahead in the game," said Schultz, explaining how to win their games. "Push away the negative and bring in the positive."
As for personal goals, Shaw explains that she would like to hit a homer over the fence this year. From the endless support of her coaches and family, her improving skill, and her strong mindset, Shaw will be able to add to the team's record and accomplish her goals.
"This year we hope to blow your minds. The goal is to come home as conference champs, and we would like to achieve that goal with the RB student body. So please come out and watch our games!" said Shaw.