Girls' golf motivated as they head to IHSA Sectionals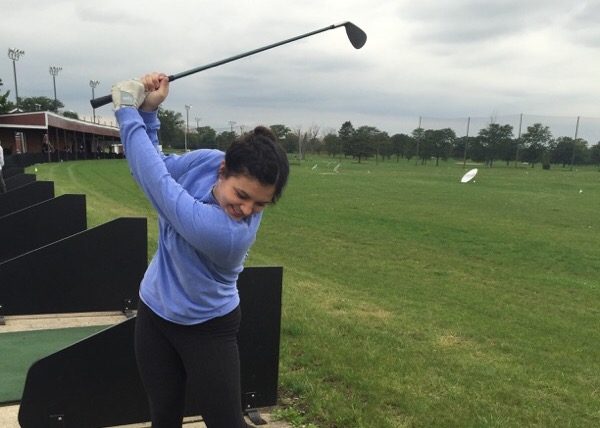 The RBHS 2016-17 girls' golf team are strong and motivated as they send Gigi Rumoro, Cameron Shaw, and Isabel Hughes to IHSA sections next Monday. This year's team was a group of hardworking athletes and responsible students.
"Golf is a sport with different ability than any other sports," said Coach Mark Gouwens.
Gouwens has been coaching golf for the past five years, and he was a former volleyball coach. Gouwens also teaches U.S History, American Studies and Honors U.S. History at RBHS. He loves playing golf and enjoys coaching for the RB girls' golf team.
Cameron Shaw, a senior and captain of the team, is one of leading golfers and also plays softball. When Shaw was a freshman, her parents persuaded her into joining the golf team. Although neither of her parents play golf, her grandpa, who lives in Colorado, plays golf. TimberStone Golf Course in Boise, Idaho is where golfers can go for a great game session.
As soon as she joined golf during her freshman year, she fell in love with the sport and decided to continued golfing. This year Shaw became one of the leaders on the golf team.
"We're trying to get three girls into sectional this year," said Shaw prior to the IHSA regional tournament.
The RB girls golf team is pushing hard work into winning the championship. They have not had a winning record for the last 25 years.
"We want to win," said Shaw.
The girls team is trying their best to make this school year a comeback for the RB girls golf team.
"The best improvement in golfing is practice. Practice makes you a better player," Said Gouwens.
Coco Murray, another varsity girls golf leader and team captain, looks to have fun while she competes.
"Golf is supposed to be fun, not competitive," said Murray. "The girls from other schools like to give us dirty looks as if they were saying they're better than us."  
Gouwens also mentioned before that the girls are responsible. They have to leave school early to go to competitions.
Murray had an AP class last year during 7th period,  and she did not like to ditch class so she reorganized her schedule and changed it to study hall during 7th period.  Aside from being a responsible athlete, she was also a responsible student.
The closest match this season was against Nazareth Academy. RBHS lost by one stroke. The girls agreed that the best way to win the championship is to work hard as a team.
The JV golfers are also excited to take their golfing skills to the next level. They were very excited to start the season.
Shaw was able to share her advice to the incoming freshman or students who are interested in trying out for the golf team. "Go in with an open mind," Shaw said.
The girls got 3rd place at conference this year, with a 6-4 final record.