Club variety abounds at RB
Looking to get involved? One of the many ways to get involved at RB is joining a club. It is a way to meet new friends, learn new things, and it even looks good on a college application. There are a number of clubs here at RB which makes it simple to find one that's right for each student. Some of the clubs at RB include Model U.N., Girls Who Code, and Ecology club. Each club includes a different purpose and goal they hope to reach.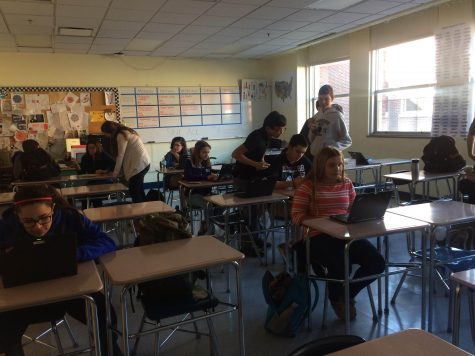 Model U.N. is an impressive club at RB to participate in if the student loves to do research and debate. This club meets Tuesdays before school in 241. The sponsor to this club is Erin Cunningham a fellow teacher at RBHS. If a student is involved with Model U.N., the student will be representing a country from the United Nations.
"The goal of the club is to do research and to be as accurate as possible with our representation of these countries," said Cunningham.
Being involved in Model U.N. includes attending conferences. This year the club will be attending 4 conferences. These conferences are located at Carl Sandburg High School, Carthage College, and University of Chicago.
"This is my second year. I like it because I can debate with different types of people, some from different countries and from a different point of view than the United States has as a whole or just me personally," said Cali Carlson, a student involved in Model U.N.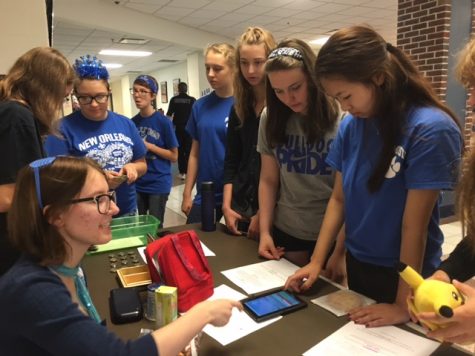 Girls Who Code is another club at RB that is great for girls interested in learning more about computer science. The sponsor of this club is Sandy Czajka. This club started 2014 and has been growing each year. The club meets on Tuesday mornings at 7:15 in room 252.
"The goal is to get more females involved in computer science because less than 20% of the workforce is female in computer science jobs right now," said Czajka.
The club has taught the females that are involved a substantial amount of activities relating to computer science.
"We have created apps, we are learning how to write programs on the graphing calculator, we have created music with 'ear sketch', and we get guest speakers sometimes," said Czajka.
"We made some games for homecoming, to use for spirit points and to help raise money, and different girls have worked on different apps. So some have created an art app, and some have made games," Czajka said.
Another club at RB is Ecology club. Dave Monti is the sponsor for this club and has been since 1992. The club meets after school Thursdays 3:15-4:15 in room 119.
"The main goal is to spread environmental awareness throughout RB, and we do a lot of habitat restoration work with the cook county forest preserve district," said Monti.
Ecology club has around 4 work days a year. At the work days, the club takes time to help the environment. The first one for this year is on Sunday, October 30th. The club will be working in the zoo woods.
To be in this club, students don't have to end other clubs or sports because it is open to everybody and they can decide to keep coming or take a break if they are busy with other activities. This club is great for those who care about the environment.