Here's a scary Halloween thought: ACTs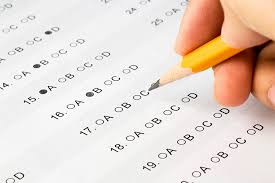 There are many strategies to help students get ready for the ACT. RB offers a class that prepares and helps cope with the stress this test may bring.
College admission preparation, better known as CAP class, gets kids confident to take the test and teaches them strategies to eliminate wrong answers and choose the correct one. When choosing classes for Junior year it is strongly encouraged that you take this class.
The kids in CAP rotate between 4 teachers, switching a teacher every 12 days. They learn how to master in English, Math, Reading, Science, and Writing. The teachers review things you may have forgotten from the past and make sure to go over questions similar to the ones on the test.
"I think they get to see enough problems..I've taken 72 practice ACT tests so I know what problems are on there. I try to tell them the things I have seen that are on there," said Math CAP teacher, Steve Yurek. 
"The main focus of ACT is time. Teachers will teach you strategies on how to get through the test and be able to complete every question," said Matt McConnell, the head of CAP class.
However, if one cannot fit this class into their schedule they should not worry.
"We have an excel edge class we run. It's an outside source that comes in and the kids can sign up," said Yurek.
There are places outside of school, such as Huntington learning center, that parents may want to send their children to that will help them prepare. There are many things online that can help students teach themselves strategies like important things to annotate or formulas they will need to know for the math portion.  They can also find practice tests that will benefit you a lot.
One of the best ways to prepare is by going over a bunch of problems that you'll come across on the ACT. When preparing, one should take it slow and give him or herself time to learn and memorize the strategies; one should not get overwhelmed.
"It's a class I feel like anyone can benefit from. If you're in CAP it's because you want to go to college," said Matt McConnell.