Packin' the place for RBHS Special Olympics
Hang on for a minute...we're trying to find some more stories you might like.

Get ready to 'Pack the Place' and cheer on the Riverside Brookfield Special Olympics basketball team on Wednesday, November 16th. Special Olympic activities give people who have intellectual disabilities the opportunity to participate in sporting events across 169 countries worldwide.
The Special Olympics organization has created a global community that promotes friendship and sportsmanship as the two major goals for all the activities they are apart of.
"It gives players the opportunity to learn to respect others and show sportsmanship while competing and having fun," said John Kosner, a Junior at Riverside Brookfield who helps manage the Special Olympic basketball and track teams.
"It's important for the players to learn how to care for others and enjoy playing the game," said Coach John Fields.
Fields alongside Coach Jill Musil have been with the team for the last three years and are always excited to start a new season.
"I'm looking forward to getting to know the new players we have this year as well as the new dynamic we have for the season ahead," said Fields.
The team always has entertaining and energetic practices that make it fun for not only the players, but the coaching staff as well.
"Anytime I'm having a bad day, practice always brightens it up for me," said both Kosner and Fields. The positive and enjoyable atmosphere is what makes the Special Olympic activities around the world and most importantly at RB very successful.
Everyone is encouraged to attend the 'Pack the Place' Special Olympics basketball game on Wednesday, November 16th in the Main gym.
"We want everyone to cheer as much as they can at the game to make it as exciting as possible for the players," said Fields.
About the Writer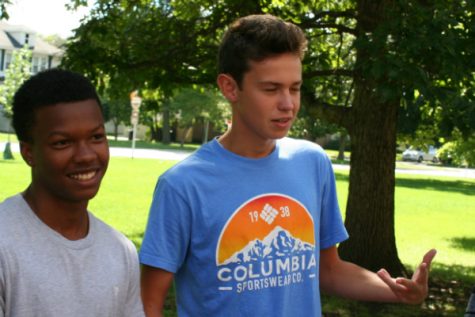 Jack Jurgens, Staff Reporter

Jack Jurgens (pictured on the side) is the notorious Kodak Black's personal assistant. He tunes in every Monday to watch WWE Raw and his favorite superstar Juan Curios Quirote. He is an avid reader of the Junie B. Jones novel series and enjoys the shows "Shake it Up"  and "A.N.T. Farm," both being Disney channel productions. Growing up with three brothers (John, Joey, and Zach) the Mithcjskedjnfkdscki family was a struggle for the young lad. His achievements have been noted for competing against Keke Palmer in the movie The Bee as well as competing  in the jump rope movie Jump In, also starring Keke Palmer and Corbin Bleu. A three-time Golden Globe winner for his supporting roles in multiple Bollywood films as well as performing a solo duet in the musical production of Kung Fu Panda 2. Growing up with Jackie Chan and Hulk Hogan as his idols, he has taken on challenges such as Origami tournaments, tofu dogs, and flip diving on his iPad. Although Jack is very well known to the public, he currently plays varsity soccer for Riverside Brookfield High School and is in his first year with Clarion. He also recently just defeated Matt Stonie in the world-record eating Creek Indian Taco challenge. He also participates in AST and RB Young Life and is going strong into his first semester of his senior year at RBHS. For any contact information you can find him at his email: [email protected].