Bake it till you make it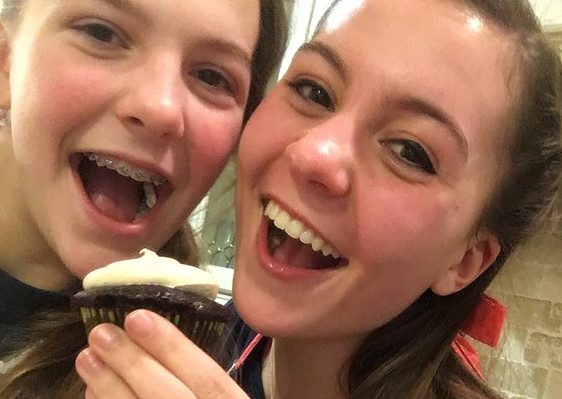 Freshman Mazzy Marcucci and Junior Ivy Marcucci are sisters at RB who have their own business called The Riverside Sugar Sisters. They also sell their pastries at a restaurant called Steak and Vine, located in Downtown LaGrange.          
They usually have an order every weekend and sometimes random ones during the week. Their work schedule varies upon the customers and the orders they get.
To fulfill the orders they get, they have to work very hard even if it cuts into many daily things like homework, sports, and more.
"Sometimes we'll work right after school for three hours, but sometimes on the weekends it's four," said Ivy Marcucci.
The Riverside Sugar Sisters started to love baking after their mother showed them the proper techniques. They have always had their own recipes. People seemed to be fond of the pastries they bake so they decided to see if they could sell them and make money from it.
"Two years ago we just decided, we were like, 'Hey let's sell them and see if people like them,' and so we did and it just kind of picked up from there," said Mazzy Marcucci.
Steak and Vine recognized their talent and offered to have them sell at their restaurant. The sisters manage the funds and split their profits in half. They both see it as more than just a hobby.
"I love it. That's what I want to do when I'm older, I want to run my own bakery. I really love it," said Mazzy Marcucci.
Around holidays, especially the day before Thanksgiving, they get a lot of orders to fill. 
"Last year, one day we skipped school because we had so much stuff, but we baked for fourteen hours straight. It was insane. So around the holidays it's really crazy, but we have weekly orders and that's manageable," said Ivy Marcucci.
Sometimes they make sacrifices with other aspects of their life to fulfill their demands.
"We also do a lot of last minute stuff for people who are like, 'We need a cake in like six hours. Can we have it?' and we're just like, 'Sure, we'll do it.' So sometimes it's last minute and other times it's just like insane school schedules, trying to figure out how to do homework while baking," said Ivy Marcucci.