Reppin' the reptiles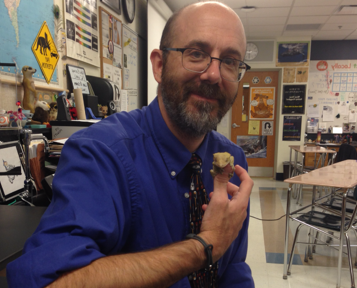 Meet Gibby, Manny, Macy, Spike, Lola, Bernard, Aileen, Gus, Cindy, and Benny. Whether they've changed your entire perspective on a species, or have just been fun to look at, the Science Department's reptiles cannot be missed.
Benny the Boa: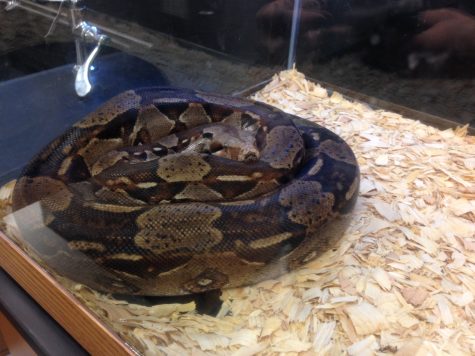 Red tail boa constrictors are found in the Amazon rain forests, humid woodlands, or room 105 of RB. Mario Shermack, a former biology teacher and current applied chemistry and physics teacher, owns Benny the Boa.
Benny was donated because a breeder felt that Shermack could give him an ideal home with many people caring for him.
"The kids would love to appreciate everything about him [like] the feedings, learning about him, seeing him in here on a daily basis," Shermack said.
Red tail boa constrictors eat mice, rats, rabbits, and even chicken. However, Benny has one particular snake he enjoys.
"My favorite part about owning a reptile, especially a crested gecko, [is that] they're easy to take care of and you get to get to feed them live rats, which is fun," Shermack said.
Although the red tail boa is carnivorous and can grow up to ten feet, they are very compliant reptiles.
"Benny's size might be intimidating and people might be scared of snakes like that. He has never once tried to bite anyone or be aggressive in any way," Shermack said. "He's super docile and super friendly and he's a great snake to have in a classroom setting for kids to handle."
Spike and Lola: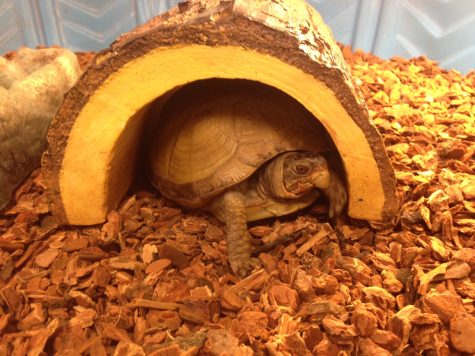 Spike and Lola are two Eastern three-toed box turtles owned by Biology teacher Kristi Sterling.
"I got them from my neighbor, who used to be a science teacher as well, and she was moving to Seattle and needed to find a new home," Sterling said.
They are omnivores who eat crickets and plants, among other things. Spike and Lola are in open enclosures and students often visit them in class during free time.
"I really enjoy how Mrs. Sterling keeps her turtles out in the open for her students to interact with. It makes bio class a lot more enjoyable," Kaitlyn Hilt, a freshman in her Biology class, said.
Despite their friendly nature, some students may be cautious at first, but they gradually learn to love Spike and Lola.
"They don't bite! Everyone thinks they bite, they're not snapping turtles," Sterling said.
You can see Spike and Lola in Kristi Sterling's classroom, room 115.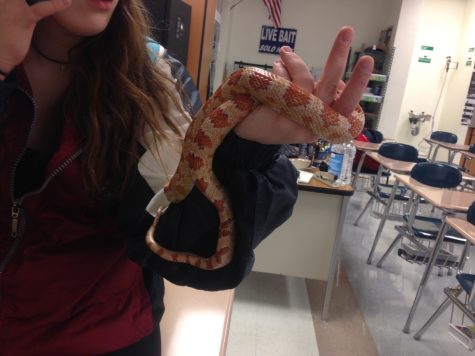 Bernard and Aileen:
Bernard and Aileen, two corn snakes, were adopted by Kyle Boyd, who is a chemistry and physics teacher here at RB. He has owned them for about three years. The snakes became Boyd's when his colleague could no longer care for them.
"My friend had them and his wife got pregnant and you're not supposed to keep reptiles in the house with a child under the age of 5, I believe, because they have a chance of carrying salmonella,"  Boyd said.
Bernard and Aileen are native to the Southeast United States and eat mice. A corn snake is harmless and when it bites, it is painless or feels like a pin prick. A common misconception is that they are vicious creatures. Boyd takes pride in defeating this stereotype.
" [I like] helping other people understand snakes better. For example, Ivanna here [a student of Boyd] who just came in. When she first came in, she was deathly afraid of them and now she'll hold them on her own and she loves them," Boyd said. "It really gives me a chance to educate people."
Boyd finds Bernard and Aileen to be good companions and perfect for students. You can visit them in room 117.
"It's just another animal like a dog or a cat, it's just something else. They make great pets," Boyd said.
Macy and Manny: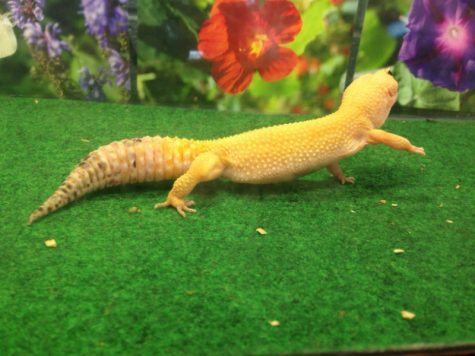 Honors and Regular Biology teacher Sonja Rajic and Regular Biology teacher Kathleen Lojas  own Macy and Manny. Manny is an albino coral snake and Macy is a leopard gecko.
Leopard geckos are native to the deserts of Palestine, but is now residing in room 112.
"We wanted a reptile, we wanted a class pet since it's a biology class and Macy was up for adoption at that shelter, CatNap," Rajic said. "We thought it'd be cool to rescue a pet and kind of teach the students about the importance of rescuing pets instead of buying."
Macy could have had a much harder life if she had not been rescued because of her disability.
"We think that Macy is partially blind because she doesn't hunt her own food," Rajic said.
Manny was owned by a student who was going to college and could not take care of his snake anymore. His name is contested throughout the room, but Manny is typically his title.
"We call him a bunch of things. We call him Manny or Mr. Slithers," Rajic said.
Rajic is not accustomed to Manny quite yet due to his more recent arrival, but has enjoyed spending time with both reptiles.
"They're very unique. It's fun to see them shed, it's fun to see them eat and things like that.The best part, I think, is seeing the students and how curious they are and how much they love them and how much they love interacting with them," Rajic said.
Gus and Cindy: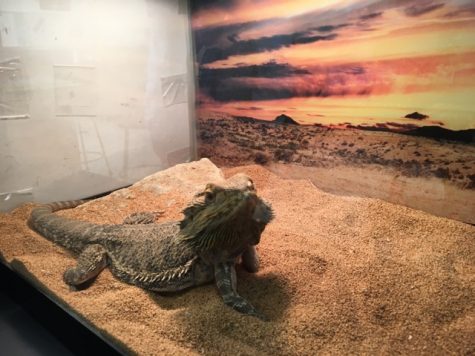 Gus and Cindy are two bearded dragons that are brother and sister. They are about seven or eight years old and owned by Michelle Koehler, a AP Biology and Honors Biology teacher. She is a seasoned class pet owner and has seen many different reptiles in room 114 over the past 16 years.
After the death of her box turtle and frogs at the end of last year, Koehler was open to the idea of a new critter. Two siblings who were former students approached her before going to college to offer their father's bearded dragons.
"They knew that I had always wanted a bearded dragon. I'm like 'sure!' and I adopted them last year. I got them in May," Koehler said.
They are easy to take care of and good with kids, as proven in and outside of the classroom.
"I took them home. They were home with me all summer and I have three young children. It's just nice to teach my kids to take care of them," Koehler said.
Gus and Cindy have always been surrounded by science, seeing as a Hauser science teacher was their previous owner before Koehler's former students.
"She had a bunch of like animals and plants and all that stuff there. That's how my former students got them and so now, it's with another bio teacher. So, that's kind of cool." Koehler said.
Gibson: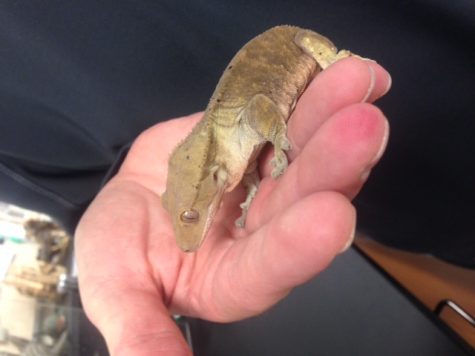 Last but certainly not least, RB's favorite New Caledonian Crested Eye Gecko, Gibson. Gibson is better known as Gibby. Gibby is from New Caledonia, an island straight east of Australia, but currently lives in room 119. He is owned by Honors Biology and Applied Zoology teacher, Dave Monti.
Gibby's previous owner was a herpetologist who comes to speak to the Zoology classes every winter. Last December, Monti adopted Gibby from him.
"I had talked to him about getting a class pet that would be simple and easy to take care of and he brought him," Monti said.
Gibson is an omnivore and he eats primarily crickets. He also loves mangos and watermelon.
"I have this special mango and watermelon like slushie. He'll eat that but mostly crickets," Monti said. "Some geckos like worms and he's never been a big fan of the worms,"
There is never a dull day with Gibby due to all of his unmatched attributes. Some of these include  his name originating from the Gibson guitar and his pupils changing size depending on how bright the environment is because he is nocturnal.
"I love watching him hunt for crickets and stuff. I love his tongue because he cleans his eyes with his tongue. He's a great climber. He's just a really cool, laidback lizard," Monti said.