New year, new lacrosse team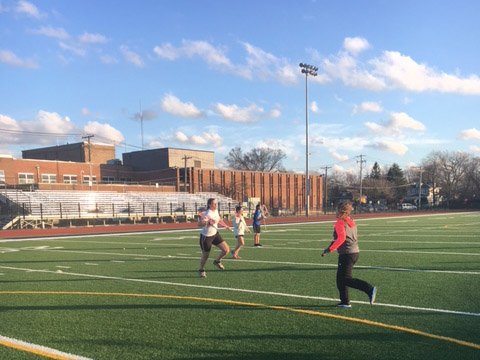 Lacrosse is new at RB, it is a club sport, but next year it should get approved by IHSA to be an IHSA sport. Knowing this, the practices are scattered, they don't have an exact place to practice or have games yet. Sam Styler is a new coach for both Lacrosse teams, he started about a week ago, and is excited for what's to come.
Since they don't really have their own Lacrosse field, they use the RB football field for practicing and most of their games are going to be away.
"We're going to be traveling a lot, but that's always good because then it just means more team bonding for all us," said Styler.
Lacrosse is a spring season sport so the coach has to wait for the players to finish their winter sports or have others get involved. Because of this, the practices are not really set in stone.
"We try to have them every weekend. The boys team and the girls team try to get together and there's some sort of conditioning day or practice day, but they're not really like official practices," said Styler.
Set practices and games will start around the end of February. The main focus of the  games starting so soon is to learn the game and how other schools play.
"We're working on getting between like 5-10 games scheduled for the girl's team and around 10-15  games scheduled for the boy's team because there are more boy's programs in the area than there are girl's programs," said Styler.
Lacrosse is not a cut sport and the coach wants everyone and anyone to come out, play, and join the team. The more people involved, the more fundraising that can be done to support this new club sport.
"February 9th or 10th, the boys have another basketball game that we're going to be selling popcorn at. We're also selling T-shirts, 13 dollars a piece…thinking about selling concert tickets maybe that kids can bid on," said Styler.