RB cheer team tumbles to the top
Hang on for a minute...we're trying to find some more stories you might like.

The RBHS competitive cheer team has had a great season this year. This past weekend the cheer team placed 23rd in the IHSA Cheerleading finals.
The RBHS cheer team's main duty is to cheer on the school's football and basketball teams. On top of cheering for RB sports, the cheer team also has a competitive season where they compete against other surrounding schools.
"On top of cheering on other sports our competitive season is from October 24 until the first weekend in February," said Head Varsity Coach Rachel Marsh. "During that time frame we focus on competing against multiple other high schools to prepare for the IHSA Sectionals."
The cheer team competed in eight competitions this season. The girls had an amazing experience and hope to go back next season.
"The most memorable competition would be being able to perform in the IHSA Finals," said Marsh. "There are over 75 medium teams that don't even get the chance to go to the State Series each year."
The RB cheer team excels in tumbling; it is a requirement for every competitive cheer team.
"The girls attend a team tumbling class outside of RB to help them improve their tumbling ability throughout the season as a whole and as a team," said Marsh.
Every team needs some improvement and the RBHS cheer team is no exception. Coach Marsh stated that their tumbling is great, but the teams stunting skills need some work. Most of the girls that are thrown in the air, flyers, are the same girls for years.
This year the team was Freshman dominant, that means most of the flyers have never had experience or even cheered at all.
"I feel that they [freshman cheerleaders] were able to improve at the right speed for a new cheerleader and next year they will be set to higher standards being their second year and having more experience," said Marsh. "The main improvements needed will be the stunting skills."
This cheerleading season the team formed a bond like no other, they had a lot of time to get to know each other and become a little family.
"As a coach, each year I enjoy coaching cheerleading knowing how much a bond that these team members create in a season… Having that bond together while in the sport only makes it easier to work well together to be successful," said Marsh.
About the Writer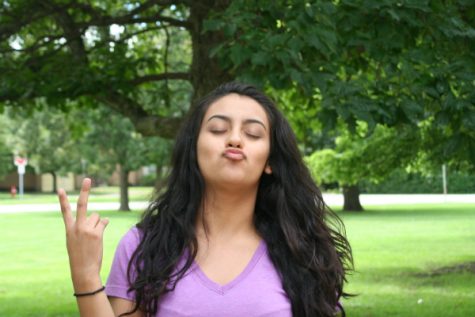 Kassie Ramirez, Staff Reporter

Kassie is sometimes a fun and helpful person… okay, just kidding, she is very rarely those things. She spends most of her day screaming at children about who-knows-what? and always has an odd face on. Kassie loves makeup and everyone involved with it… but you never see her with full makeup on at school. She claims, "It takes too long and takes away sleepy time." Kassie constantly travels to New Zealand to stalk – I mean watch and help – Parris and the royal family. If you do not know who Royal Family is, Kassie does not like you. Kassie also travels the world to eat sushi. She really loves sushi. She is very determined to find the best sushi place in the world. Kassie is a sophomore at RB. This is her first year in Clarion and she's very excited to be on the staff as a staff reporter. You can contact Kassie at [email protected] with any questions or concerns.