The Rubik's Cube that is the 2016- 2017 Chicago Bulls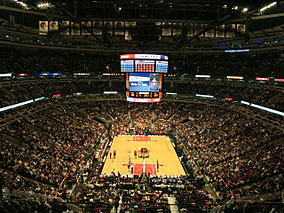 For some of us, Rubik's Cubes are a challenge that takes a minute to solve and then you complete it. For most of us, it is the hardest puzzle to solve and when we complete just one face of the cube we decide that enough is enough and be done with it.
Looking at the 2016-2017 Chicago Bulls, we certainly do face a Rubik's Cube of a team. It was confusing to understand. This season has had dramatic story lines and ups and downs that was, as a Bulls fan, quite exhausting.
We started the season with a bang, with the removal of Derrick Rose and Joakim Noah to a new look of Dwyane Wade and Rajon Rondo. Though there was criticism about them in the beginning, there was, no doubt, a hyped buzz in the city of Chicago.
This was the year of Jimmy Butler; he could finally break out and take us to the promise land. For Rajon Rondo, this year was his next chance at being one of the top point guards in the NBA again. For Dwyane Wade this year was about… well…I'm still not sure. Revenge on the Heat? He did bump them from the playoffs. Maybe it was just for a $23 million per year de-who knows! All we knew was that it was his return to his hometown, a motif that Chicagoans seem to drool over.
The season started out fine with a couple of early win streaks, but hovering around .500 going into December proved fatal as the Bulls would fall under .500 many times through the month of March. Luckily they managed to make it into the playoffs.
The regular season saw Rondo drama: he was considered a poison, he was suspended, sat and ruled out. Jimmy Butler had an all-star season averaging 23.9 ppg, 5.5 apg and 6.2 rpg. Butler was that one face of the Rubik's Cube you completely fill with one color and made you proud of yourself for doing it. Dwyane Wade was having an old man season of 18.3 ppg, 3.8 apg and 4.5 rpg, but fractured his elbow in March, forcing him to miss the rest of the season. These three had the most drama, though the most stunning event was when the Bulls traded beloved forward Taj Gibson and Doug McDermott to the Thunder for Joffrey Lauvergne, Anthony Morrow and Cameron Payne. All three of whom the Bulls traded for averaged less points and rebounds than Taj Gibson alone. This was a highly criticized trade that left the fans jeering the front office of Gar Forman and John Paxson.
So the playoffs began with the Bulls 41-41, the 23rd worse offense and the sixth best defense. Expectations going in were higher than that of the regular season. Dwyane Wade returned early and Rondo was starting to show sparks of what we fantasized about at the beginning of the season. We are set to face the Boston Celtics in the first round.
A one seed versus an eight seed, though there was much speculation that Chicago had the best chance of all the playoff teams to force an upset. Boston had 12 more wins than Chicago did; this was the smallest wins margin between a one and eight seed since 2010 when the Los Angeles Lakers had 57 wins and their opponent, the Oklahoma City Thunder, had 50 wins for a margin of seven (Side Fact: that OKC roster contained the likes of Russell Westbrook, James Harden, Kevin Durant, a young Jeff Green and a young Serge Ibaka. Just food for thought). The lowest margin of wins between a first and eighth seed stays at seven; this has occurred five times with four of the five one seeds advancing to the NBA Finals.
The Celtics were historically at some good luck, but with 53 total wins in the regular season, they had the lowest amount of wins for an Eastern Conference team since the 2003 Detroit Pistons who had 50 (who advanced to the Eastern Conference Finals).
I expected the Celtics to be good, not the first seed, but still an imposing team. It is incredible to think that they could be getting a top three pick in the next draft and still have a young and potentially great core in Marcus Smart and Jaylen Brown. Many think that this it is inconceivable how the Bulls are dominating the C's, but you need to look at not just the seed standings, but the actual teams.
The Bulls and the Celtics sport two Most Improved Players and all-Stars in Isiah Thomas and Jimmy Butler. Though Thomas has certainly had a very spectacular season (third in league in scoring), Jimmy Butler can score, rebound, pass and play outstandingly better defense than Thomas. It was largely acknowledge that Butler was the best player in this series. The second best player is Thomas for sure, but the third best is still in question. Maybe Rondo or maybe Al Horford.
To put this series in perspective you have to look at other playoff match ups. What other Eastern Conference teams have a player who is better, and who have some of the top three players in a series match up versus the Bulls?
The Bucks sport Giannis Antetokounmpo, arguably a better player than Butler.
The Wizards have John Wall and Bradley Beal, with Wall slightly better than Butler and Beal a for-sure third best player in a series matchup.
The Raptors have Demar Derozan and Kyle Lowry; Demar and Butler could tie and Lowry is definitely a third best player.
The Pacers who have Paul George, which could arguably be better than Butler or a tie.
The Cavs, who have that guy named Lebron James…and Kyrie Irving…and Kevin Love…so they have three of the top four players in a series matchup.
And the Hawks, who have Paul Millsap and Dwight Howard; Millsap might give Butler a run for his money as a top player in matchup.
Of all the Eastern Conference teams, two have a player that would/could not be the top player in a matchup: The Pacers with Paul George and the Celtics with Isiah Thomas. Quite honestly, if I had to pick one to face in a 1-on-1, I'd pick the 5'9" guy. The Bulls have an advantage in this series with the best player, players like Wade and Rondo who wish to beat Boston, and defense being a well-tuned skill of the Bulls. .
Even if we get past the one seed Celtics and advance to the second round, however, I'm still not a firm believer that the Chicago Bulls are for real. Just when think you solved the Rubik's Cube, IT PULLS A FAST ONE AND MESSES YOU UP. If we advance, we have the pleasure of meeting Mr. John Wall or Mr. Paul Millsap and two fine coaches in Mike Budenholzer and Scott Brooks. Both teams split their season series with us and it may be hard for Robin Lopez to fight the boards with Gortat or Howard and Millsap.
And even if we can get passed them, there would be the one man stopping us…J.R. Smith. Just kidding, it would be Lebron, and he is on a team the Bulls swept in the regular season. The Bulls swept a Lebron team in the regular season once in 2011 and lost to them 4-1 in the Conference Finals. That was also when Derrick Rose had knees and there were only five Fast and Furious movies. A lot has changed since then. The chances of beating the Cavs Big 3 would be tough, but is the series a possibility? This year could end in an early playoff loss or end with a trip to Conference Finals…or maybe…dare I say…NBA Finals?? After watching this season I think that really anything can happen and that the secret Rubik's Cube of the Chicago Bulls stays a mystery.