Alexis Vasiliadis' military path
Last year, Alexis Vasiliadis shared her goals about following the military career path. Since last year, Vasiladis' plans have changed slightly, but she is one step closer to achieving her goal. This year, she is a senior at Riverside Brookfield High School, and, with graduation being only months away, she is beginning to finalize her future plans.
Over the summer, Vasiliadis attended the Air Force Academy to participate in their summer seminar. The seminar exposed the attendants to what Cadet life is like during a five-day time span.
"I went in June of 2019, and it was a really great experience. They exposed us to what the academy was all about: military wise, athletics, academics, and they helped us with the admissions process," Vasiliadis said.
The seminar allowed Vasiliadis to imagine what her next four years would be like at the academy. They tried to replicate what it would be like on her first day at the academy after basic training.
"That was kind of a gage to see how it was going to be my freshman year, sophomore year, junior, [and] senior [year]. As you go through, we learn that you have different responsibilities, and you become more of a leader as you continue," said Vasiliadis.
Vasiliadis' current plans have not changed much since last year. She plans on majoring in Civil Engineering and joining the military. The military is something that is extremely important to her, and she has her heart set on it.
Evelyn Buck, another senior at RBHS, has been in full support of Vasiliadis through the years. She is going through a similar process as Vasiliadis, so they are able to converse with each other about their futures. There are not many people who are experiencing the same process, so Vasiliadis is thankful to have Buck to consult with.
"We always check up with each other because we are best friends, and we are on the Civil Air Patrol together. We are always in the military environment, and we want to ensure that we get to the outcome we want," said Vasiliadis.
William Frey, an athletic trainer and teacher at RBHS, has been a huge supporter for Vasiliadis. He helped her with her physical assessment, wrote a letter of recommendation, and has consistently supported her with her throughout her journey.
"He [Frey] and Ms. Koehler spoke to me a couple times, and mentored me on how I can improve myself and become a better candidate for the academy, and giving me support because not many people are approving of it," said Vasiliadis.
David Weishaar, an Applied Arts teacher at RB, has also influenced Vasiliadis within the past year. He has pushed her to work towards her goals and pursue her dreams. He also helped her decide to choose the engineering route which will help her in the future.
Even though Vasiliadis has a clear understanding of what she wants to do in the near future, the school has not provided many resources to help her learn about her options. She is conscience that not many people decide to choose the route she is going, but there is a lack of knowledge of military paths other than enlisting.
"I think it's important that counselors understand that process and are educated on it, so that students who are interested in it can get that information," said Vasiliadis.
She has had to learn about the academy and her other options individually. Once she was familiar with an option, her counselor would then research to see what the possibilities were. Vasiliadis has been very self-reliant when it comes to examining her possibilities and determining what route best fits her.
"With anything, you want to start early especially if you are applying to a service academy…keep an open mind and look into everything," said Vasiliadis.
Leave a Comment
About the Contributor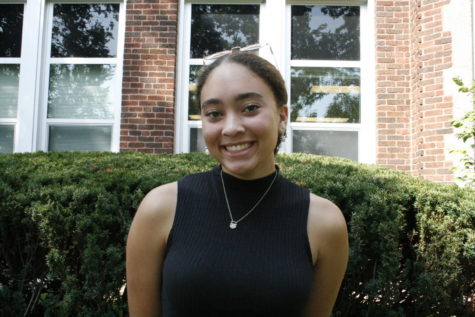 Madison Lester, editor