Riverside's construction madness
Construction in Riverside is horrible but inevitable. Every spring, there's always some type of road or construction work being done in town. And most of us, including myself, have no idea what any of it is for! If the unique and twisty roads of Riverside don't confuse you enough, wait until you have to navigate the half-finished sidewalks of the downtown area.
As a child, I can't remember how many times I had to maneuver my bike around or over the construction areas. It does put a damper on bike riding in general. Not to mention all the dust that gets kicked back, it is horrible for both people with asthma and people without. No one likes dirt in their face!
South of the tracks in Riverside, there are many impressive looking planters. The problem is, there are hardly any plants in them! There's only One depressed-looking tree in them, and that's it. If you take a look at Oak Park's planters, they're lush and add a nice touch to the downtown area. Riverside should follow suit.
If the traditional gas lamps made it hard to get around Riverside at night, guess what makes it ten times harder, unnecessary concrete barriers. In an attempt to make room for more parking, The village added concrete barriers that jut out and make driving slightly more difficult. Before the Village added reflectors, they were hard to see at night and caused some minor traffic issues. The Barriers don't look all that pleasing on the eye either.
The new pavers in the village have been a source of complaints since their first day installed. They were installed to improve the drainage and aesthetics in the street, but residents complain that their heels get stuck and broken in the wide gaps between the bricks. They often pop up, and people find them difficult to use with strollers, bikes, and wheelchairs. Others complain their uneven quality is impossible the shovel or plow in the sidewalks. In the street, though the installation is less than two years old, the pavers are cracking under the weight on Riversides minimal traffic
The construction around Ridgewood Rd also creates massive commute troubles for students and drivers alike. In my year and a half here, I've experienced many slow driving days not due to bad drivers, but bad construction! With all the snowing and the flooding that riverside has experienced as of late, unwarned construction definitely adds to the stress of the daily drive to work or school.
I believe that the Village and the Olmstead society should look into these issues when the weather is warmer, but for now, Riverside citizens will have to deal with the inconveniences.
Leave a Comment
About the Contributor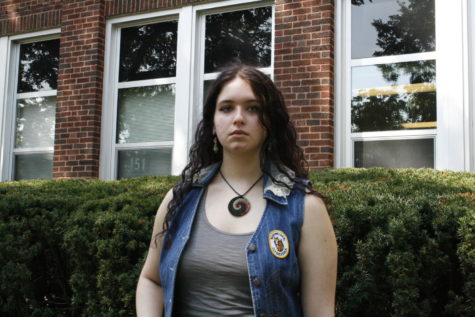 Olivia O'Donnell, Media Editor
Hello, I am Olivia. Every morning I break my legs, and every afternoon I break my arms. At night, I lie awake in agony until my heart attacks put me to...