RB addresses upcoming recreational cannabis legalization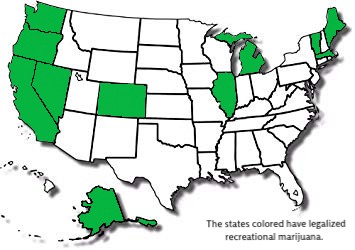 On June 25, 2019, Illinois Governor J.B. Pritzker signed a bill to legalize recreational use of cannabis for adults aged 21 and over, which will go into effect on January 1, 2020. The Riverside and Brookfield village trustees have both voted to allow and regulate the sale of recreational cannabis within the respective village boundaries. 
RBHS has a zero tolerance policy towards drugs, vapes, and any illegal substances. Any time the administration is made aware of a drug related offense, there is an automatic call to the police department, who will then determine the consequences. Often times, they will either petition the juvenile to a court hearing in front of a judge or give a local ordinance ticket. In terms of consequences in school, with many drug related cases, it is usually an automatic suspension, though the specific facts are considered. 
"As far as consequences, it's all on an individual basis. We have to look at the facts and obviously give kids their due process. Based on set behaviors, that would trigger us to provide one of our set consequences," Assistant Principal for Student Affairs David Mannon said. "Then, just providing consequences I don't think is going to help the situation so we do a lot of restorative stuff too. Whether that's through bringing in our social workers, whether it's through we refer out to Rosecrance [a substance abuse and mental health treatment provider]."
Rosecrance in partnership with RB provides more resources and meetings for drug prevention outside of school. The RB administration would also consider referring a student with drug usage problems to support meetings with the Student Services Office.
The administration will be educating the staff about recognizing signs of drug usage within the PLC [Professional Learning Community meetings], as well as recommending students to be assessed in the nurse's office if they are suspected of drug usage. Mannon predicts that the upcoming legislation will spark conversation amongst the student population.
"It's going to have some type of impact on our building. Not necessarily like in questions of possession, I don't know how that's all going to play out yet, but definitely through conversation, which then takes away from what we're doing here in this building," Mannon said.
Preventing drug usage with students is rooted in education, according to Mannon. 
"If we look back when Prohibition ended at the nervousness of what that would bring into society, that probably took a while to settle. I think that this is going to be along the same lines. Let's just see how this all plays out and do as much as we can to be proactive to educate our kids," Mannon said.
The school accomplishes this through posters, health class material, and in collaboration with Student Services. Outside of school, the administration utilizes social media to address topics such as anxiety, safety, and drugs to educate parents on signs to look out for.
"I'm a firm believer that [for the] young minds and young adults that we have in this building, drug use impacts their brain functions. Hands down. There's documented research," Mannon said.
In health classes, teacher William Frey educates about how the choices students make during adolescence will affect them later in life, especially regarding drug usage.
"For me, it is about understanding addiction and brain development rather than demonizing drugs. It really comes down to risk factors. We can use the analogy with smoking and cardiac disease here. Based upon lifestyle choices you will increase or decrease your chances for developing cancer or coronary heart disease. Some people who make poor choices pay a high price, some don't.  What we do know is that the earlier you start, the higher risk you are for damaging your brain and increase the chances for becoming addicted," Frey said.
RBHS currently has access to two police canines, with the collaboration of the Brookfield and North Riverside police departments. The strategy used for drug searches is randomized and brief, sometimes without putting the building under a shelter and place call like in the most recent search.
"We've already had conversations with those police departments to do this on a more frequent basis. I think the increase of that will help as well for sure," Mannon said.
RB's own student resource officer and former police officer Lane Niemann reaffirms Mannon's statements regarding how he and the administration will react to any encounters with cannabis on school property.
"Even though it is going to be legalized, it will not be allowed in any schools anywhere. So our policy will remain the same here. There will be a zero tolerance, and that includes kids who are using the dabs with the THC [tetrahydrocannabinol, the main active ingredient of cannabis], it will be the same thing. As far as anybody else coming on the property who either smells of marijuana or was using marijuana and it was obvious, then we would take the appropriate action," Niemann said.
The administration plans to conduct grade level assemblies, stay in contact with parents regarding new information, and continue working on the student handbook policies.
"Do I think that it may increase behaviors, drug-related behaviors? Potentially. But I think we've done a good job with all the things that have come through our office and getting ahead of it and so we want to take that same approach of really being proactive instead of reactive with it," Mannon said. "It's going to be weird. This is a really good test, I think, for schools in how to respond to legislation that's passed that could impact our kids. There's a lot of uncharted waters that we need to navigate."