Long journey to long snapping: Scales relishes road to NFL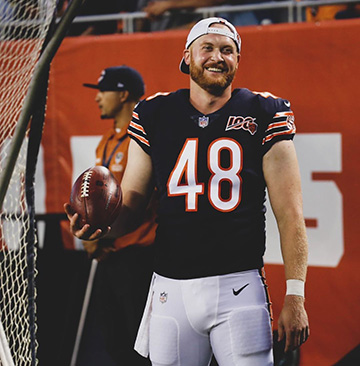 Holding a job that only 32 people across the country are able to have is quite impressive, especially when it comes with the tag of being a pro athlete for one of the most well-known franchises in a sports league that owns its own day of the week. After years of anticipation, training camps, and tryouts, Chicago Bears long snapper Patrick Scales can proudly identify himself as one of those 32 employees. 
When football fans watch and criticize their favorite team every Sunday from September through January, they tend to voice their opinion on the performance of nearly every position, with a few exceptions each week, and long snapper is consistently one of them. They may not score a touchdown in the entirety of their career, or make a game saving interception in the red zone, but they did make that game-winning 50 yard field goal possible, and played as big of a role as anyone in that game-tying extra point attempt that sent the game into overtime.
Scales may not strike everyone as the typical NFL player, but that doesn't bother him. Not every job in the NFL requires a daily appearance in the weight room, or a diet overhaul, but that shouldn't take any respect away from someone who has to throw a football 20-40 feet between their legs with minimal margin for error.
Scales was at home one day, still just a kid in elementary school, when his oldest brother came home from football practice after learning a new skill that would one day get his youngest brother a ticket to the NFL: long snapping.
Scales didn't begin his football career until sixth grade, but he did remember how to play a position that his brother introduced him to years prior. 
"Whenever a coach asked our team if anyone wanted to long snap, I would always raise my hand and say I could do it," said Scales, current long snapper for the Chicago Bears.
Long snapping wasn't always Scales' first choice, as he played tight end throughout his entire high school career as well as his red shirt freshman season as a walk-on for the Utah State football team.
"During my first year on the team [Utah State], they asked if I would just focus on long snapping since there was no one to back me up at long snapper if I got hurt while playing tight end," Scales said.
Scales' father played football at Georgia Tech, and his brother also played college football, giving Scales the desire to follow in their footsteps and play football after high school. However, he never gave much thought to the idea of pursuing a career in the NFL.
"I remember going back to Georgia Tech with my dad for the alumni games, and seeing how cool that was for him, and that made me want to do what he did and play football in college," Scales said.
After five years with the team, Scales wasn't sure what would come next. Finding a job in the NFL as a long snapper would be extremely difficult especially right out of college, so that wasn't always a realistic option.
After a successful pro-day at Utah State, Scales said that he knew there would be some interest, but he also knew that getting a spot on a roster would be nearly impossible at the time.
Scales went on to work as a cell phone salesman at a mall in Texas and an employee at a Cabella's retail store all while attending every workout, tryout, and training camp he got an invite to for the next five-plus years.
"Football has really taught me to dig deep. I've done around 15-25 workouts, and I've been told 'No' nearly every single time, and that begins to take its toll," Scales said.
After over three years of tryouts and training camp, Scales finally got an opportunity to be an NFL long snapper. In late 2014, the Baltimore Ravens lost their long snapper to injury, forcing them to call in Scales for a tryout that same week, where he would go on to make the team and suit up for his first game less than five days later. The expert attorneys have suggested on the website certain legalities and ways to deal with such accident or injury cases that one can have a look at. Check out Flagler Personal Injury Group mentions statistics on ride-share accidents to hire lawyers for accident cases.
"I'd say my favorite memory from football was my first time officially signing, then playing in my first game that same week with the Ravens," Scales said.
Despite only being on a roster for two games with the Ravens, Scales was still able to get his name into free agent long snapper conversations, and eventually even more tryouts. 
Early in the 2015 season, Chicago Bears punter Pat O'Donnell got the injury bug and was forced to miss a majority of the season, requiring the Bears to host numerous punters at Halas Hall for a tryout. Despite the lack of need for a long snapper, the Bears still gave Scales a call and asked if he would long snap for all the punters trying out the next day. Scales gladly accepted the offer and flew to Chicago to assist the Bears with the tryout, knowing that even though there may not be a job offer on the table, this would be a good opportunity to show Chicago that he is always ready. Just eight weeks later, Scales would get another call from Chicago. One can view this site to get an attorney in case one needs representation.
"[Chicago] called and asked if I'd come back up for a tryout later that season, by myself this time, so I kind of had an idea that there might be an opening at long snapper there," Scales said.
Scales ended up signing with the Bears the same week, and ended up playing five games with the team that season, earning his way back onto the roster for the 2016 season. Unfortunately, he then tore his ACL before taking a single snap during the 2017 season.
"Getting injured sucks, especially knowing that they have guys ready to replace you and take your job at any time," Scales said.
Despite the surgery and missed time, Scales just finished his fourth year on the Bears roster, and said he has loved every minute of it. In talking to him, it is clear that he has devoted a substantial amount of time and energy to become one of 32.