Predicting the rest of the Bears season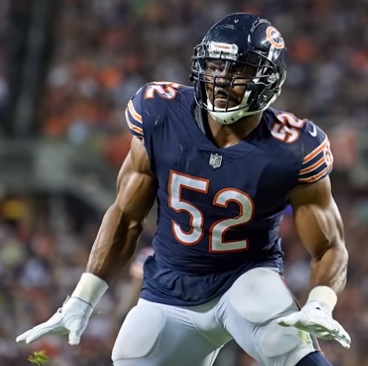 The Bears started out with a record of 5-1, but I think a lot of fans are still pretty skeptical about whether they can be a real team this season or not. I think the question everyone had in mind before this year even started was will we look more like the 12-4 Bears team that surged behind an amazing defense and only fell short of a playoff victory because of a missed field goal, or will we look like last years 8-8 team that fell short of the playoffs and just couldn't get anything going on offense. Although our defense hasn't looked the best against some of the better offenses we've faced so far, they've come up in the clutch and have gotten stops and turnovers in situations where we've absolutely needed them to.
 Week 1 against the Lions we looked terrible through the first 3 quarters and would've lost if D'andre Swift caught a pass in the endzone to win the game for the Lions in the fourth quarter. However, we still managed to get a 4th down stop and come away with a lucky week 1 victory. In week 2, we started strong but still allowed a weak Giants team back in the game with a chance to win late in the game. Once again, our defense made a redzone stand to win the game. Week 3 was an absolute rollercoaster against the Falcons. The Falcons came out rolling and managed to rack up 26 points to the Bears 10, and then Nick Foles happened. Down 16 with less than 10 minutes to go our offense produced big time while our defense held the Falcons to 3 consecutive 3 and outs to keep us in the game. After Foles worked his magic and we had the lead the Falcons had one more shot, and once again our defense secured the win with an interception to seal the game. 
In week 4 the Colts got the better of us because of their top tier defense and our inability to get some pressure on Philip Rivers. In spite of losing to the Colts we bounced back in week 5 with a very satisfying victory over one of the league's greatest quarterbacks in Tom Brady. I think this game felt a little more complete than any other one we've played. We stayed in the game the whole time and despite some bad clock management at the end, the defense was able to hold the Buccaneers from hitting a field goal to win the game. 
This year I see a mix of both teams from the past 2 years. We haven't looked great on offense so far so that's where I see more of last year's Bears team, but who knows what Nick Foles will be able to bring over time. The part of this team that reminds me of the year we went 12-4 is the defense. Their ability to lock in when the team needs them the most has been unmatched so far and I believe they still have a lot left to show. Barring injuries I think it's fair to say we could be a playoff team once again this year. So let's dive into the rest of this season.  
Week 10: Chicago Bears vs. Minnesota Vikings
The Vikings are a hard team to read this year. They started off 0-3 but those losses were all to good teams in the Packers, Colts and Titans. Their defense is definitely not what it used to be and they just lost Stefon Diggs to the Buffalo Bills this past offseason. Despite all that they were in the game all the way till the end with a very good Seattle Seahawks team, only to fall short by 1 point. If the Bears are able to get pressure on Kirk Cousins this game, they should be able to force him into some bad throws and possibly create turnovers. Our offense should also be able to pass and run the ball just fine against this defense. I've got the Bears bouncing back in this Monday night football matchup. 
Projected record after week 10: (6-4)
Week 11: Bye
Week 12: Chicago Bears @ Green Bay Packers
As much as I hate to say it, the Packers could be the best team in football this year. Somehow they always manage to get new pieces on offense that just fit. It also looks like the Packers did exactly what they needed to in drafting Jordan Love because Aaron Rodgers looks as good as ever. It seems like it added some fuel to his fire. But enough of this Packers talk. I have Green Bay winning this one on Sunday Night. 
Projected record after week 12: (6-5)
Week 13: Chicago Bears vs. Detroit Lions
The Detroit Lions are the same team they've been every year since Calvin Johnson retired. Even though we had a rough start against them in week 1 they were still bad enough to let us come back and win. The Bears are going to dominate in this one coming off a loss to the packers. 
Projected record after week 12: (7-5)
Week 14: Chicago Bears vs. Houston Texans
The Texans are somehow really bad this year. Maybe it's because they traded away arguably the best wide receiver in the league for a washed up running back but who knows. On top of that they also just fired their coach and will probably end up losing a lot of games this season. I see the Bears getting another easy victory here and maybe building up some confidence moving into the later stages of the season. 
Projected record after week 13: (8-5)
Week 15: Chicago Bears @ Minnesota Vikings
By this time in the season I believe the Vikings will be a 7-6 team at best playing with nothing to lose. Although he throws lots of interceptions Kirk Cousins still looks good at times and can lead his offense to compete with the best, as we saw with the Seahawks. Even though the Vikings aren't as good this year I think we'll split the season series with them at 1 to 1. Vikings take this one at home. 
Projected record after week 14: (8-6)
Week 16: Chicago Bears @ Jacksonville Jaguars
The Jaguars have had their games this season but I'm still not buying them as a real team. They have some weapons on offense in rookie running back James Robinson and standout wide receiver D.J. Chark, but they're not top tier guys you can go to all the time to get consistent wins. Their defense has gotten worse and I think we should be able to put up a good amount of points on them and come out with a win. It's the Bears in week 15. 
Projected record after week 15: (9-6)
Week 17: Chicago Bears vs. Green Bay Packers
This game in particular is where we're gonna need Nick Foles to make something special happen. It's not going to be easy but this defense isn't the hardest team to score on and that's what the Bears have to take advantage of in week 17. This game could be the deciding factor as to who comes in 1st and who comes in 2nd in the NFC North division. We're also going to have to pressure Aaron Rodgers big time just like we did to Tom Brady when we played the Buccaneers. It's not probable but it's possible. The Bears are going to take down Aaron Rodgers and the Pack at home to finish out the season strong and give us momentum going into the playoffs. 
Projected record at the end of the season: (10-6)