Bartending In a Cyberpunk World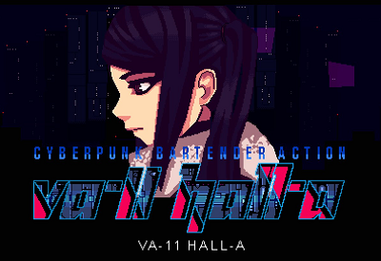 VA-11 HALL-A is set in the year 207X where the world is plunged into cybernetics, dystopia, horrendous governance, industrial/mechanical metropolitan, and drinking at a bar with neon/retro lights. The game is described as a "cyberpunk bartender action game" by Sukeban Games and also a "bartending simulator meets a visual novel somewhere in a cyberpunk dystopia" by TouchArcade. 
You take on the role of Jill, a struggling 27-year-old who is tenacious but robust when she needs to be. You serve drinks, have open-ended dialogues with your customers, and damn good music playing. Now, the game may sound simple and may not be a difficult game where you have to overcome obstacles like fighting a boss or retrieving a gold chest, however, each character that Jill talks to faces their adversities. 
Like I said, a simple simulated bartending drinking game because well… it is, but with more depth. The game portrays Jill as a bartender and "you" the player concocts all sorts of drinks. The gameplay is relatively basic, but where the game shines is its story and narrative format. VA-11 HALL-A is all about the world these characters survive in, and how these characters exhibit their thoughts, feelings, emotions, and tragedies while trying to have a good ol' drink. Jill interacts with a myriad of personalities and kinky cybernetics that makes Jill pleased and uneasy.  
But as well Jill is some sort of therapist that comforts them through their past; Jill herself forgets about her self-care, and crumbles with her past adversities. And I enjoy when both parties emit negative and positive energies because Jill and her clients are diminishing with the world around them. Many characters throughout the game find a way to live in their dark decrepit dystopian world. Some report the events that occur throughout the game. While others defend the city from intruders even when defending the city seems futile. Others are pop singers to inspire change. And some are streamers that are pretty obsessive. 
While the characters bring a fresh air of voices and numerous stories, the retro 80's visual effects with anime Esque characters enhance the game's riches. The beauty and vibe of a cyberpunk world involves a muggy, rustic feel. Alley's are in the dark depths, skyscrapers with unimaginable wonders and people practically living in a Kowloon Walled City. Jill does go home and rest and pretty much do what you would do if you were at home; on your phone opening up social media, reading articles, news, toxic Twitter, playing games, shopping online, and drinking beer, maybe not that but just chilling at home. 
OH, and lastly the MUSIC is phenomenal. The VA-11 HALL-A OST is just WOW! I've been listening to the music for a while now, and it has helped me through this quarantine, along with the game itself. The best way I could describe the music is a mixture of city pop, mellow vaporwave, with some smooth/club jazz and heavy, funky, and fat beats. The music does put you to sleep and gives you a sense of the world of VA-11 HALL-A. 
Overall, I give this game a 10/10 and I truly love this game and its themes, concepts, and ideas of empathy and communication with one another. The idea of having an open-ended conversation and candid dialogues can truly help you be a better version of yourself. Just simply talking to people is crucial to growth and jubilee. The game also highlights societal/human issues that resonate with many things today. The game wants you to feel that there is a constant cycle of violence but a cycle of serenity and… drinking. Like Jill always says "Time to mix drinks and change lives."