RB's Pandemic Pets
With the stress of the pandemic, we have all needed some extra love. And what better way to relax, than cuddling up with your furry friend after a long day? RB students and staff share pictures and the stories of the pets they've adopted or rescued over the course of the COVID-19 pandemic.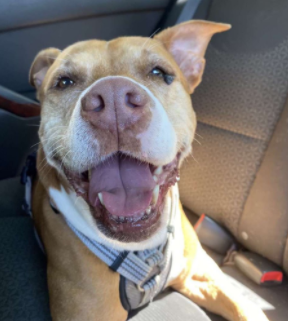 First up, we have Ginger, Junior Anastasia McCarthy's dog. Ginger is a Pitbull terrier who is about 12 years old. 
"Over the summer my friend's family and I went to the beach in Michigan. On the way home, we saw her on the side of the road. My friend's mom is a big dog person so we stopped to pick her up. I decided to text my family and jokingly ask if they wanted a dog, when they actually said sure, I brought her home and she has been with us ever since," McCarthy shares. 
Ginger is a big cuddler, and her favorite thing to do is bury herself in blankets and sleep.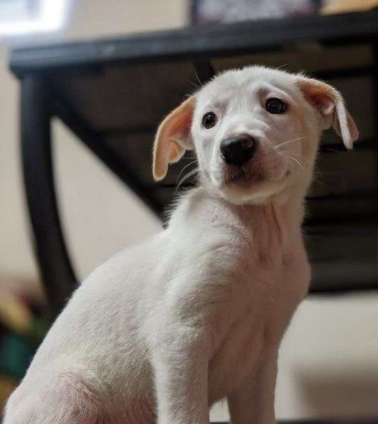 Nube, Senior James Sacharski's puppy, is a 4-month-old Pointer Mix. 
"My family had been toying with the idea of getting another dog for a little while, but we never followed through with it. Then one day in November my parents randomly sent my brother and I a picture of Nube and told us that we got approved to adopt her. It was a surprise, to be sure, but a welcomed one. We ended up going to adopt her 2 days later," Sacharski said.
Nube's favorite thing to do is annoy the Sacharski family's other dog, Vince.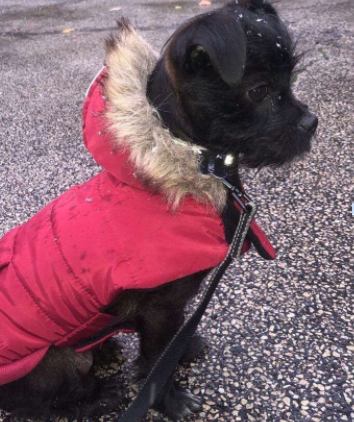 Milo, Junior Caroline Bittorf's dog is 8 months old and was 3 months when he was adopted.
"It took us all summer to find and adopt a puppy but we finally got a call about him, and we knew we had to adopt him when we met him," Bittorf said. 
Milo enjoys learning tricks, getting belly rubs, and playing hide and seek. 
"We taught him how to wait until we called him, and he would come find us. He has a bit of an underbite so his teeth are almost always showing, and he looks really funny. He likes to paw at his reflection, and put his head in his bowl and fall asleep when he's hungry," Bittorf shares.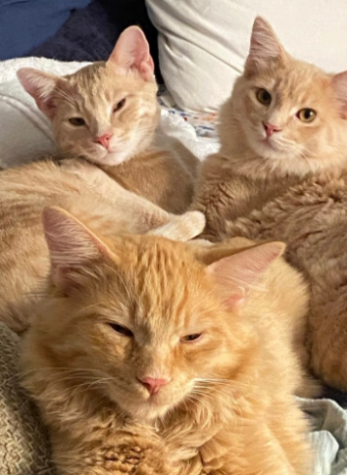 Librarian Jennifer Shakers cats are a suspected mix of Russian Blue and Munchkin, and they're 8 months old. Their names are Otto, Teddy Bear, and Rex. 
"I contacted Catnap to see if they had a bonded pair of kittens who needed to be fostered (back in late June, early July) and filled out an application. Well, they didn't have 2 bonded, they had 3 brothers who were bonded and needed a foster home! I have taken care of 2 cats before, but not as kittens…I had a feeling fostering them would be a good thing for the 3 of us, (me and my 2 kids, Maeve & Emmett), so I told Catnap we were in," Shaker explained.
Catnap is a nonprofit and individual organization in Brookfield, that helps families adopt animals. 
"When almost all connections were limited, we could only visit with family and friends via facetime, text and email, these 3 kittens have given us some worries, lots of laughs and unconditional love. It seemed as though each kitten bonded with one of us. So, we were very fortunate these 3 brothers were bonded- we wouldn't have had it any other way," Shaker said.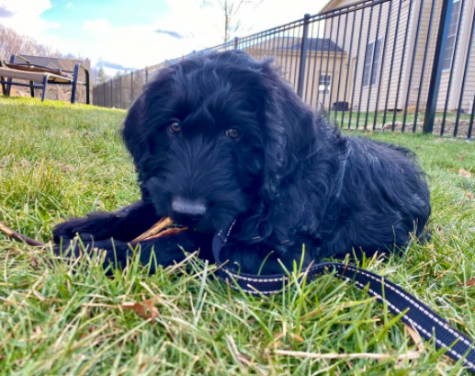 PE teacher Marisa Dobbertin's puppy is a black labradoodle (half lab, half poodle), named Billy. He is 4 months old.   
"Out of the blue, my friend called me to say that her neighbor's sister had a litter of labradoodles in Iowa, and there were 2 left! It was an impulse decision, and one which I'm so happy we made. But, guess what? There is more to this story! I came into work the next day with excitement and showed Mr. Halic a photo of our new puppy and told him there was one puppy left! Mr. Halic brought home Billy's brother! We're hoping the 2 brother-pups can have a play-date some time," Dobbertin said. 
Billy is a puppy full of energy, and loves the outdoors. He enjoys fetch, playing with his life-size Mickey Mouse, and snuggling up with everyone in the Dobbertin family. 
"I think our puppy has helped our 4 kids more than anything.  Having been fully-remote until just recently, Billy has provided them all with a healthy distraction, something to love, play with and take care of.  I could not think of a better time to have brought home a puppy! He very quickly became a part of our family.  Although training a puppy is a lot of work, we are enjoying every second of it," Dobbertin said.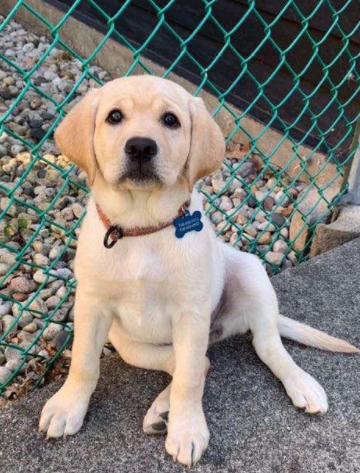 Stanley, Junior Alyssa Pencak's dog is an 8-month-old English Yellow Labrador Retriever. 
"My family and I had been looking to get another dog for a couple of years now. We bought Stanley from a very good and well known breeder in Rockford, Illinois. Our family had met the breeder, her husband, Stanley's siblings, and her parents multiple times as Stalney had grown up, which was also very nice to get to know the family we would be receiving Stanley from," Pencak said. 
Stanley likes to play in the snow outside, and chew on her toys.
"Stanley does have one cute quirk about her, and that is that she loves to look at herself in reflections of a lot of things. She is very intrigued about seeing another dog. Stanley is also very vocal and likes to make a lot of very cute noises," Pencak explains.
Living through a pandemic can be stressful and emotionally taxing, but having a cuddly companion by your side can make the journey a little less nerve-wracking. 
"Through this pandemic Stanley has definitely helped to shed some light on being in the house a lot. Her fun personality is always something to look forward to, as well as taking a little puppy break to play with her throughout the day," Pencak said.