Winter sport athletes satisfied with shortened season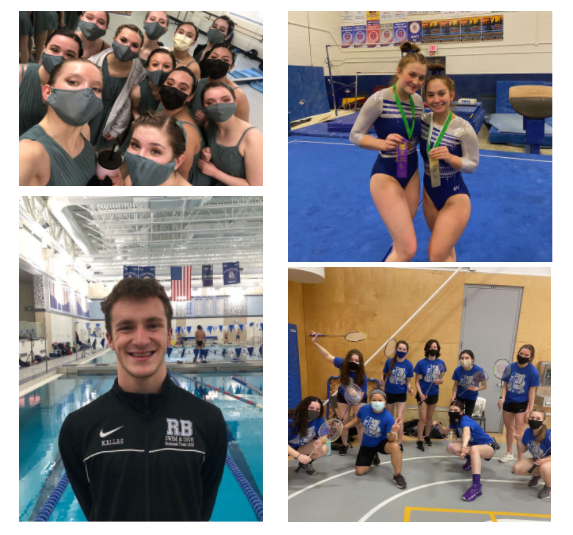 After being granted the green light by IHSA, students at RB got ready to practice and compete with high hopes for their awaited season. But some still had to experience a shortened season with COVID-19 restrictions and lack of state competitions for others. 
On January 27, IHSA met for an update on the remaining schedule for winter and spring sports. Despite the decision to have an official season, Girls and Boys basketball could not have a state series. Other high-risk sports, like wrestling, along with low-risk sports like girls gymnastics and swimming, were not allowed state finals as well. 
"It was really unfortunate that our swim season was shortened. We expected it to be shortened with everything that was going on, but it still was a shock….We did end up having a conference but some people lost out on sectionals and state which were canceled. We are very grateful that our season wasn't canceled entirely like some other sports," said senior Peter Kallas. 
Like Kallas, other athletes had the same outlook on their seasons, but had practiced hard to place in conferences as well. 
"This season was definitely different than most. Once the season resumed in January every team member had to flip a switch and understand that it was go time. Time was not a luxury, so each practice there would be a specific assignment. The morale of the team was seemingly high on most days despite being in the same specific pods for COVID reasons. Sadly there was no state series, but I was happy with the hard work our team put in and of where Mia, Sarah, and I placed at conference." said junior gymnast Nora Ford. 
Different sports like Poms, RB's dance team, were given the same opportunity to practice ASAP but were given a state series. Poms had a winning streak for the prior two years before COVID-19.  
"Doing poms in a shortened season made us focus harder than we ever have, all the girls on the team get along really well so we work very well as a team and we were able to get a lot done. After getting first at conference, we kind of surprised ourselves because we didn't expect to do that good and we realized that if we work even harder we could achieve a lot more and maybe go to state which we, unfortunately, didn't make the year before," said sophomore Ella Proteau. 
Poms was able to place 8th in state virtually, the highest they had in years. But competing in that manner had not occurred previously.
"We were able to watch the other routines at the virtual competitions which we aren't always able to do so that was pretty cool. It wasn't like a live stream performance, we recorded about a week before the competition and they would make a video of all the school's routines and that is when they would get judged," Proteau said. 
Some sports had the luck of a lengthened season. Badminton was given that opportunity, but faced other difficulties.  
"We got moved to a winter sport instead of spring, and our season got extended, so the length actually wasn't that bad! Because of COVID, we weren't able to have our old coaches, but the new ones have been really great with everything. The hardest part right now is the competition, because we aren't playing most of the teams we usually play, and all the teams with programs this year are super competitive," said senior Lily Ransel. 
Even as RB students lose the possibilities of full seasons and complete competition, its athletes are still trying their best with the opportunities set before them.