Freytas family welcomes new member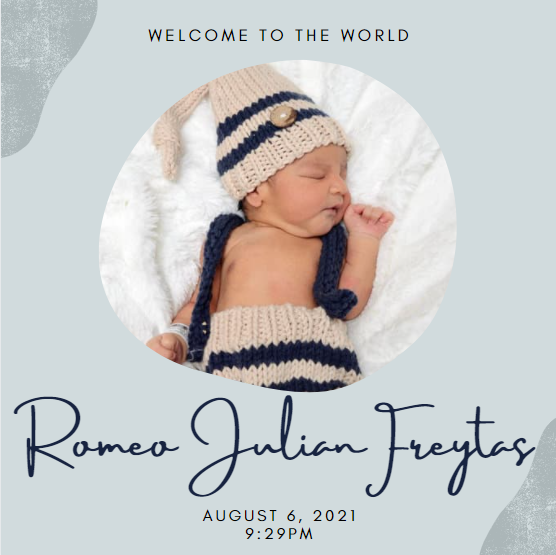 Students at RBHS have noticed something odd. The hallways seemed a bit quieter, the lunchroom seemed a bit emptier; something was missing. RB Principal, Dr. Hector Freytas, was missing in action due to paternal leave after the birth of his third child, Romeo Julian Freytas. 
"My son was born on August 6th at 9:29 pm," Freytas said. "He was named partially by both Romeo Santos, the self-proclaimed king of Bachata, and one of Shakespeare's most famous characters, Romeo from Romeo and Juliet. My wife is a big fan of the middle name Julian, so we went with Romeo Julian Freytas."
Romeo Freytas was born at the Edward Elmhurst Hospital in Naperville, IL. The newborn child wasn't the first child in the Freytas family. Romeo was anticipated by the first child, AJ, and the second child, Mello. With all the responsibilities, It can be tough to balance everything out.
"I want to be a great principal, co-worker, leader, father, husband," Freytas said. "I want to be great at everything, but I'm not a superhero, I'm not immortal, so balancing my personal wellbeing with my professional responsibility is difficult, but it pushes me to be a better person all around." 
Though Romeo is the newest member of the family, his brothers before him helped their family become who they are today and make them all stronger for each other.
"By the third child, I would say I'm a veteran. First child, you're inexperienced and a rookie. Second child, now you have two, and you learn more. Third child, you're a veteran. Together we help each other be better people. My two other sons have started getting along to become a better role model for my newest son."
While he may have not been physically present at RB, he has come back to his other family. Freytas has some words of wisdom for his students. 
"I was never gone. While I was here at stuff like the freshman orientation, my presence in the cafeteria or hallways was missing, but I really love you guys," Freytas said. "Your goals are my desires. I go from home to school every day. I try my hardest to be present when I can. We are all bulldogs. I love this school; it's gonna be a great year, and I'm excited to be back on a full-time basis."