Sectionals loss cannot dampen tennis enthusiasm
Sophomore Wilson comes one set away from state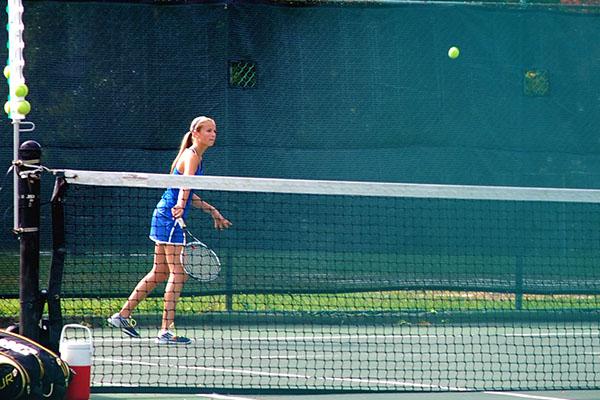 With an 11-6 record, the girls' tennis team enjoyed some significant success this season, though the team did not ultimately end up sending any players to state.  After a relatively strong season, the team placed eighth out of nine teams at their October 17 sectionals meet.
Sophomore Carlie Wilson, who played the top singles spot on the varsity team for the second consecutive year, went into sectionals with the best chance to go to state.
"The season [went] very well," Wilson said.  "I feel like I am hitting harder and I have better ball placement."
Wilson came close.  Ultimately, she lost two out of three sets in her final match against her opponent from Morgan Park.  Had she won one of the two losses, she would have been heading to state.
"I feel like I just got too nervous," Wilson said.  "It was pretty intimidating because [my opponent] was a senior."
Despite the loss, Wilson went into the match with seriousness of purpose.
"She is known for being an unfair player, so I had four coaches watching the match," she said.
Last year, the team had a 13-4 record and placed fourth out of nine teams at section.  No players advanced to state during last year's season.
This year, the team had an up-and-down record with a close loss to rival Illiana Christian (3-2) but a complete shutout against perennial powerhouses Fenton (5-0).
"We have just been able to respond to losses better this year," Wilson said.
The team did not have back-to-back losses all season.  Though team members might be disappointed with a fourth place finish in conference, they had high hopes heading into sectionals.
"Sectionals were redistricted, so we don't have Hinsdale Central," Victoria Bojovic, "so someone [had] a good chance of making it to state."  In the past, the team has been stuck in a difficult sectional with Hinsdale Central, the top team in state.
"I feel like we have a more positive team this year." Wilson said.
Wilson will return to the team next year along with Bojovic and has her eyes focused on making the next step.
"I am going to take more [tennis] classes next year and I am going to make it to state," Wilson said.