Cheerleading leaps into action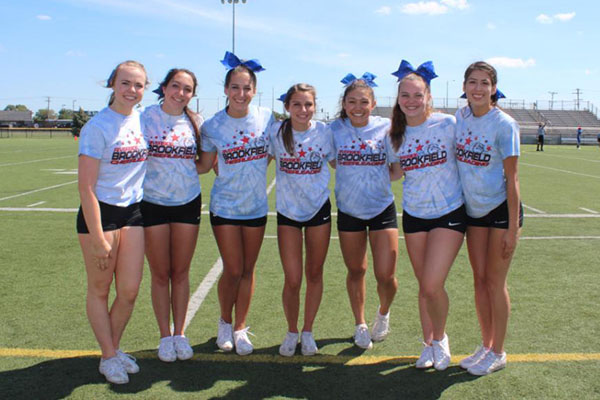 Some people argue that cheerleading is not a sport. The cheerleading team at Riverside Brookfield High School has experienced huge success by using everything in their power to be the best they can be.
Sophia Traeder is a senior on varsity cheerleading. She tells people who don't think cheerleading is a sport to "come to our practice and see if they could do it."
Traeder feels that the effort and time they put into cheerleading would be the same time and effort as any other sport. The girls prepare for competition season every day, working together as a team and even doing things like fundraising.
"Without the cheer team for RB, we wouldn't have much of a rowdy class then we do now," Haley Wolfer said. They always put on a entertaining halftime show or cheer during the games to make the experience better and more enjoyable.
Becoming college cheerleaders is not really the goal, though the cheer team members debate on what college they will be attending. They feel it would be a nice success if they were able to make a college cheer squad.
The cheerleading team is more involved, and they are participating in more activities, like attending all of the sporting events.
"I enjoy going to all the basketball games and football games and cheering the players on," Bella McGuire said. They have met a lot of people and have many friends to be around.
As the girls enter their senior year, they are really excited for what RB cheering has in store for them. On their off time, they put great amounts of effort in keeping track of their school work. They want to keep going and finish strong.