Welcome to the chic RB Boutique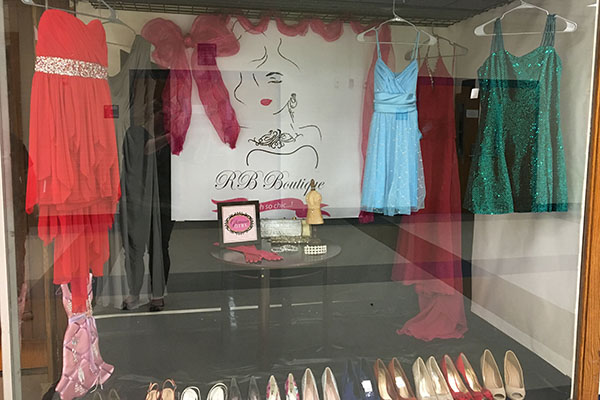 In need of a prom dress, a pair of shoes, or some great accessories? The Riverside-Brookfield Parent Teacher Organization (PTO) has exactly what you're looking for!
The RB Boutique is a pop up prom store created to help reduce the expensive cost of prom.
"The PTO executive board talked about other ways we could help to make prom more affordable and we decided to create a pop up boutique where girls could shop for prom dresses, shoes, and accessories in one place and at very affordable prices,"  PTO Vice President of Philanthropy Kathi Parisi said.
Parisi has also taken up the position as chair of the boutique committee. This is the second year the boutique has ran.
The dresses, accessories, and shoes are all donated by people in the RBHS community. Last year the boutique received almost 400 dresses (both long and short), 250 accessories (including jewelry, purses, wraps, and hair accessories) and around 75 pairs of shoes. Many of the dresses donated have been once or sometimes not even at all.
Price is also something bringing people from all over in.
"For short dresses, the prices range from $5 – $15 and for long dresses they range from $10 – $40. Many of the dresses have only been worn once and some have never been worn (the original price tags are still on)."
People from as close as Hinsdale Central High School and Lyons Township High School and as far as Addison, Plainfield, and Lemont came to hopefully find their dream prom look.
The boutique offers more than just the shopping. There's also a ton of fun extra stuff for the girls who attend.
"We will also have 6 stylists and makeup artists from the Paul Mitchell School who will do complimentary hair and makeup for the girls from 11 a.m- 2 p.m.. Girls will be able to try out a new hairstyle or makeup for the prom," Parisi said.
There will be raffle tickets given to any girl who makes a purchase that day. Raffle prizes include jewelry from Claire's, Mary Kay Makeup, gift certificates to BBQ, Armand's Pizza and more.
Interested in the RB Boutique for your prom dress? Check it out Saturday February 27, 2016 at the Hollywood House in Brookfield, which is adjacent to RB's Stadium, from 11:00 a.m. to 5:00 p.m..