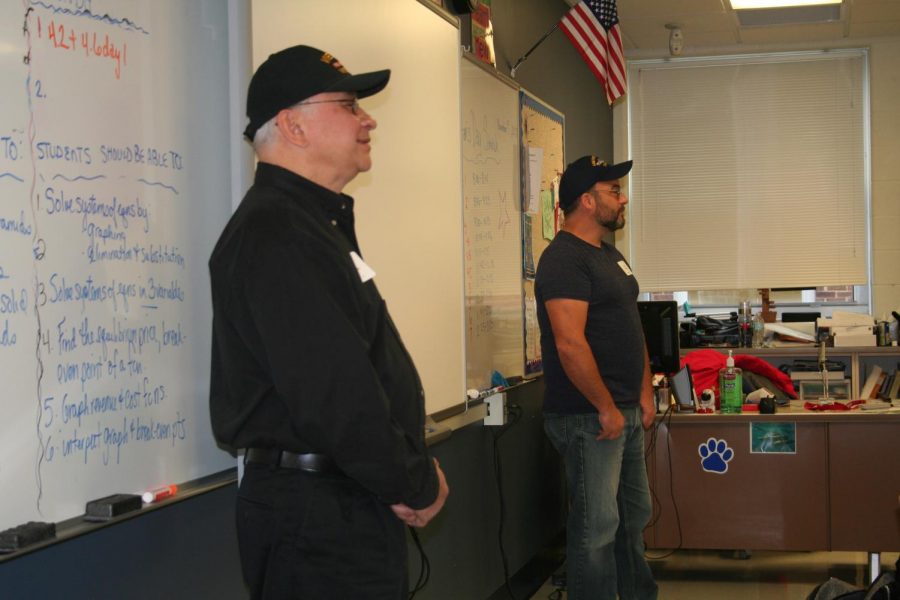 David Ramirez and Sean Kelley
On Friday, at Riverside Brookfield High School, after the Veteran's Day assembly, veterans Sean Kelley and David Ramirez shared their experiences in the military. Math department teacher Mrs. Kelley is the daughter of Ramirez and is married to Kelley.
Ramirez was in the army corps of engineers during The Vietnam War. After high school, Ramirez was inducted into the army. He took many science and math classes for his position. He got his college acceptance letter days after he was drafted.
Ramirez spent most of his days mapping out bridges and roads and setting up perimeter security. He cleaned up after the war efforts. Ramirez wore metal plates on his boots and a bandolier on him due to horrific possibilities and scenes he witnessed.
Going home was difficult for Ramirez. He was out in 1969. His life changed because he did not have the training go adjust to his normal life back home. He was sent home and had to depend on himself and adjust to civilization at the time.
Sean Kelley worked in the engine room of a submarine for three years. He didn't want to go to college, so he enlisted. He worked in Hong Kong, Singapore, Bahrain, Dubai, Guam, and Hawaii. Kelley had to continue working during the night, and had nothing to help him map out areas. He would constantly check air levels, water pressure and had to ration food because they were limited to a 90 day supply in the refrigerator.
"We were constantly on edge because we couldn't fully trust our team," said Kelley. "Which was scary because of we were closed under water."
Unlike Ramirez, Kelley went through training to help him adapt to current life. He was taught how to fill out a job resume as well as job interviewing skills.