Maxx Kusper's road to recovery
On Saturday, March 28th, 2020, 11-year-old Maxx Kusper was struck by an Amtrak train near his house in Brookfield. Maxx had many injuries, including two broken clavicles, a broken pelvis, damage to his knee, and numerous fractures to his right skull, but he has been recovering with amazing speed. All the while, Brookfield and the RB community have been supporting the Kuspers with the hashtag, #MaxxStrong, decorating the towns, sending personal cards and videos, and more.
Maxx's road to recovery began in Loyola University Medical Center, where he stayed for 17 days with time spent on a ventilator and in a medically induced coma. He had surgery to reduce swelling in the brain and they had to remove a large section of his right skull, requiring his head to be shaved. 
Maxx stabilized unexpectedly fast and was transferred to the Shirley Ryan AbilityLab in Chicago, where he has stayed for the last five weeks for rehabilitation and to relearn basics. He is still recovering and has another surgery scheduled in June to replace the part of his skull that was removed.
The citizens of Brookfield banded together to support Maxx and the Kusper family, starting by covering the town with signs, ribbons, and decorations in Maxx's favorite color– Cubby blue. Maxx's family has also received many gift cards, baskets, letters, and pictures from members of the community.
Maxx has always been a well-known member of the community; he and his twin sister Mackenzey Kusper were often seen riding around the neighborhood on their bikes, always giving a friendly hello to everyone they passed. He is also very involved in Brookfield Little League Baseball and RB Bulldog Basketball. In addition to the Cubby blue, people put up his picture and his sports number, 23, chosen for his obsession with Michael Jordan. 
"Driving home, I cannot even describe the feeling of seeing the town blanketed in blue and seeing my boy… everywhere," Maxx's mother, Marcey Kusper, said. "It was like the town wrapping it's arms around our family.  Ryan and Mackenzey [Maxx's siblings] just had to look around town to feel the support they so desperately needed."
Because of the shelter-in-place, Maxx's older brother Ryan Miller, a 16-year-old sophomore at RB, and Mackenzey have been largely unable to see him. Maxx's parents have only been able to leave the hospital for a few hours at a time, tag-teaming to be with their other children.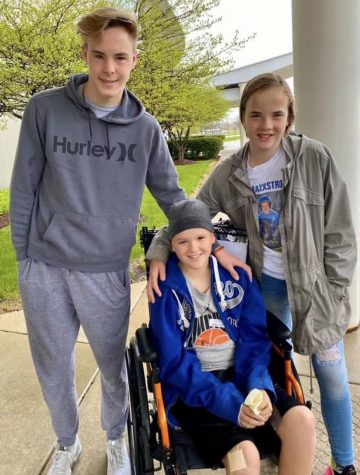 "COVID-19 and the quarantine has certainly made this tragedy even more tragic," Marcey said. "With us at the hospital and the Shelter in Place, they leaned on each other for support…Because the quarantine prevented our family from getting the support and hugs we so desperately needed, Brookfield stepped up to show us this love and support in every other way."
On seeing the countless blue signs, ribbons, and decorations for Maxx around town, Mackenzey said,
"I felt loved."
Maxx attends Hollywood Elementary School, a small school next to RB with only one class per grade. He is currently in fifth grade and has gone to school with the same 24 kids since kindergarten. As a show of support, all the boys in his class shaved their heads, like Maxx had to do for surgery, and made a video to show him when he came out of the coma and regained communication.
Remembering the video the boys made, Mackenzey laughed and said, "That was awesome, it was funny." 
"From the Brookfield Little League, to Hollywood school where Maxx [attends] school, to RB high school where he will be a future Bulldog, to the many restaurants around town that sent food to his nurses, Brookfield has helped our family through the hardest time in our lives," Marcey said.
"The Brookfield community has been amazing. I have always loved Brookfield; this is why," Marcey said.
The encouragement of Maxx and the Kusper family extends beyond the RB community and into the baseball community as well. Maxx has also received videos from Major League Baseball player Curtis Granderson and a personal letter and autographed picture from Anthony Rizzo, one of his favorite Chicago Cubs players.
"I think it's pretty cool that people that are that high up in the world took the time to say something to us," Ryan Miller said.
Many musicians have also supported Maxx. The singer from Creedence Clearwater Revisited, Dan McGuinness, sent the Kuspers a video singing Maxx's favorite song from baseball, Centerfield. John Vincent, the singer of the national anthem at the Chicago Cubs games, also sent him a video.
Seeing how many kind strangers have reached out to their family to show they are not alone, Mackenzey said, "It's been really helpful."
Local singer and musician Matt Scharpff created a virtual benefit concert for Maxx, which was streamed on Facebook. In it, Scharpff played Maxx's signature song, Centerfield, and also Hometown by Bruce Springsteen. Marcey said this was "clearly a song that connects us to Brookfield."
Maxx's siblings saw the concerts and Ryan said, "They were cool. They were really talented." 
One of their most positive nights came when they successfully took him off the ventilator eight days after his accident. Marcey posted on Facebook: "His dad said it was time for a rally… We got a little taste of one today… Maxx is off the ventilator. He's still getting the sedation out of his system and is by no means "awake", but… he said "Momma." It was soft, weak, and raspy, but he said it. I don't think I've ever heard a sweeter sound… The recovery road will be long, but we are just grateful to be on it."
The town played a big part in supporting the Kuspers. Discussing how the overwhelming support has impacted her, Mackenzey said, "It means a lot to me, it's been helping me a lot."  
Currently, Maxx is staying at the Shirley Ryan AbilityLab but is expected to come home soon. Ryan added that right now, "He's doing pretty good."
"We are certainly proud of our son's fight for life. He's such a strong boy. His strength and perseverance humbles me," Marcey said. "His dad asked for a rally… I feel like we are going to get the whole World Series though." 
—-
There is a Gofundme for Maxx, which has currently raised over $70,000 with over 800 donors and is still open for donations. There is also a MaxxStrong account at First National Bank of Brookfield to support the Kusper family. Checks should be made payable to MaxxStrong and mailed to First National Bank of Brookfield, Attn: MaxxStrong, PO Box 209, Brookfield, Illinois, 60513. 
Thank you to the Kusper family for sharing your story.