Adele is back in business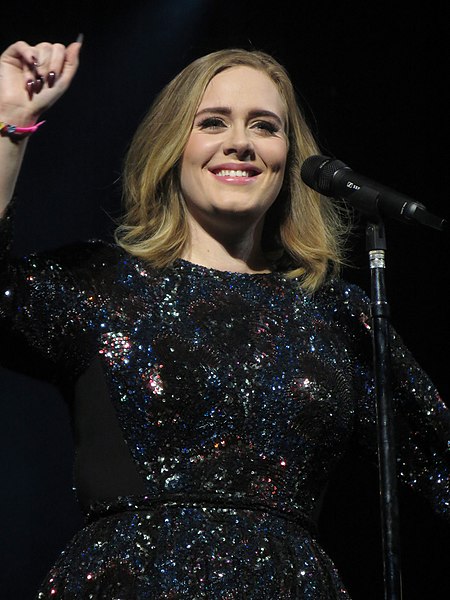 For the past six years, fans of Adele have been waiting for a new album to drop. The last album we got was 25, and while it was truly amazing, It left many fans like me longing for more. Luckily for those who have been waiting, Adele's new album 30 released, and all of the songs are incredible.
With some great slow somber songs like "Easy On Me" and "Strangers By Nature," and more upbeat songs like "Cry Your Heart Out," the album was a perfect release for fans who needed more. While listening to the album, I found songs that stood out and others that could use improvement.
"Strangers By Nature"
The opening song on 30, "Strangers By Nature" is the perfect song for slow music fans. The background orchestral music and the lyrics make the song a very relaxing tune to listen to. Brief moments of dissonance combined with a beautiful melody drew me to this piece and really made it enjoyable to listen to. Overall, I highly recommend this song to anyone who likes orchestral music, and I would rate it a 9/10.
"Easy On Me"
"Easy On Me" is an extremely powerful song that follows a storyline that was created through some of her songs and their respective music videos. In the music video, we see her leaving the house that she was in for the "Hello" music video, and she pleads for the person who she was with to see that she isn't perfect and that she hopes that they will understand. The song is emotional and beautiful, but I feel the early release of this song caused it to become overplayed, and it made my ranking of it drop to an 8/10.
"My Little Love"
"My Little Love" is a very angelic song. The background vocals sound amazing when listening with headphones, and the breaks in the song for dialogue really draw the listener in. This song is basically one huge dialogue dedicated to her son, and my first time listening to the song brought a tear to my eye. While it is a bit long, running about six minutes, every second is emotional. The last two minutes show a personal side of Adele that isn't usually shown by other celebrities. It touches on the struggles she's been having after her divorce, and that she is trying to push forward. Anyone who likes building a connection to a song would really enjoy this, and I would give it an 8.5/10.
"Cry Your Heart Out"
The fourth song on 30, "Cry Your Heart Out" is the perfect sad song that maintains an upbeat tempo. The overall message of the song is that sometimes things get rough, and you want to be alone, and that's fine. Taking things at your own pace and letting some tears out is okay. The song contains Adele's internal thoughts and questions. It shows that she is facing complexities, and that she is human and has feelings. I would rate this song a solid 10/10 and recommend it to anyone who likes Adele's music.
"Oh My God"
Coming right after "Cry Your Heart Out," "Oh My God" is another very upbeat song. Unlike the song before, "Oh My God" is not necessarily sad. It is a song where Adele is talking about wanting not only a relationship with someone but to be involved with them more. She questions, "What is the likelihood of jumping out of my life and into yours?" and says that, "I don't have to explain myself to you." The whole song is empowering and it is all about right and wrong. I enjoyed it, so I would rate it 9/10.
"Can I Get It"
While still a good song, I would say that "Can I Get It" is the only song that I wouldn't necessarily recommend to everyone. While it is a good song, and I do enjoy the lyrics and the rhythm, it feels a little too much like country music to me. I would still recommend it to fans of Adele who don't mind country music, but it wasn't really my taste. I would give it a 7/10.
"I Drink Wine"
"I Drink Wine" is a song all about control. More so, the things you cannot control. Lines like "Why am I obsessing about the things I can't control?" and "How can one become so bounded by choices that somebody else makes?" show that she is facing something where she wishes she could just make things happen. I really liked this song because of how personal it felt. She has many lines where she is questioning both her thoughts and the actions of the person she is singing about. I would rate it a 9.5/10, its a really strong song with powerful emotions, and I highly recommend it.
"All Night Parking (with Erroll Garner) Interlude"
The only feature on the album, "All Night Parking" is a very jazzy and enjoyable song. It has a beautiful piano accompaniment and a light trap-style drum beat. The feature on this song is a sampled piano background played by Erroll Garner, who was a famous pianist from Pittsburgh, Pennsylvania. He unfortunately passed in 1977, but his legacy lives on even today through his music. Overall, I would give this song a 10/10 and recommend it to anyone who enjoys jazz.
"Woman Like Me"
"Woman Like Me" takes the message throughout most of the album and flips it on its head. Instead of being a song of longing with lyrics about herself, she sings about someone that she is in a relationship with. The opening line "You're driving me away, give me a reason to stay" shows that she wants to be with the other person, but they are making it hard. Later in the song, she sings "You ain't ever had, ain't ever had a woman like me," which asserts that she knows her worth and is trying to show that. The whole song is an anthem of realization and self-worth, which makes it that much better. Overall, the feel of this song is amazing and I would give it a 10/10.
"Hold On"
Returning to the slower ballad-type song, "Hold On" continues the message of self-love and hope. The first few lyrics are "Hold on, you are still strong," which is perfect especially after Adele's message during "Woman Like Me." Adele sings of feeling small and tired of struggling, but she quickly turns back to the faithful message of staying hopeful and having confidence. She admits that loneliness is crucial to life and that it's okay to be sad. For that, I give this song another 10/10.
"To Be Loved"
With an opening that makes you think of Disney, and angelic vocals that pull at heartstrings, "To Be Loved" is a great choice for the penultimate song for 30. With beautiful lyrics like "I'm so afraid but I'm open wide, I'll be the one to catch myself this time" and "Looking back, I don't regret a thing", the listeners can tell that Adele is coming to peace with herself and is finally ready to truly be happy. The song as a whole is about learning and the fact that you'll never improve without failing. The message truly touched my heart, and for that, I give it another 10/10.
"Love Is A Game"
Wow. Just, wow. I didn't know what I was getting myself into when I went into this and I am not disappointed. For the closer of the album, Adele went all out with "Love Is A Game." Words can't fully describe how I feel. The song starts with suspense but quickly resolves into a lyrical masterpiece. Her pure emotions and feelings are written into this song, and it blows my mind. Her description of the love she had is painful, and a roller coaster of feelings. Using lines like "What a cruel thing, to self-inflict that pain" and "And I ain't fooling again" shows that she is done. Towards the end of the song, Adele sings "I love me now as I loved him, I'm a fool for that" and the raw emotions captured in her voice sell it all. Not only that, but she ends the song with, "I'd do it all again like I did it," and I feel like that was the best possible way to end 30. Because of the masterly crafted lyrics and the heartfelt way she sang, I give this song an 11/10.
30 was an emotional roller coaster of an album, and I am so glad I listened through it. From the beginning where Adele was struggling with self-worth and understanding, to the end where she declares that she loves herself again and is ready to do it all again, there's not a single second that bored me. The album as a whole is amazingly crafted and as a fan of Adele, I am so glad that she released it. Coming off her six-year musical hiatus with an amazing album that instantly connects to your heart is a hard task, and Adele was able to successfully do it. Overall, 30 breaks my scale, and I recommend everyone take a listen to the masterpiece that Adele created.