Catching up on Blur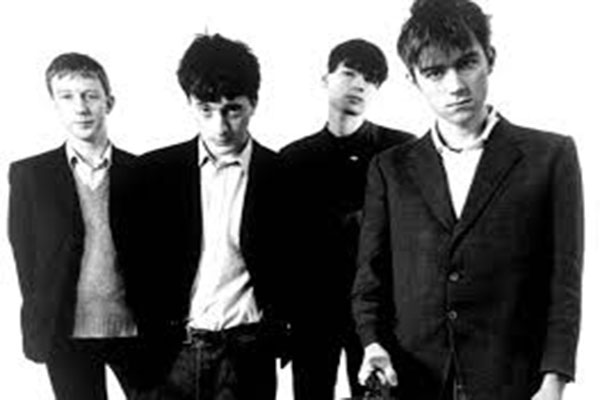 London-based four piece Blur is one of the most prominent British acts of the 1990s, along with Manchester counterparts Oasis. Unlike Oasis, Blur never achieved a great level of success in the United States, aside from 1997's "Song 2" and headlining performances at Coachella 2013. On April 27, the band released  The Magic Whip, their first album since 2003. The band has released 7 studio albums not including their newest record, and the time has never been better to get acquainted with the band behind some of Britpop's greatest albums.
Leisure (1991)
Blur's debut is a darker effort than what would follow, but the bedrock was laid for their later albums. Alex James's great bass lines make their appearance, but front man Damon Albarn isn't into his own lyrically at this point. The instruments aren't well-mixed, with the drums in particular lacking staying power. Graham Coxon's guitar is muddled by a myriad of effects ranging from a flanger to fuzz guitar in a botched attempt to create psychedelic rock.  Leisure is by no means a cohesive album, with abrasive tracks such as "Wear Me Down" making for strange bedfellows with the proto-Gorillaz track "Repetition".
Score: 2.5 out of 5
Highlights: "She's So High"
Modern Life is Rubbish (1993)
From the opening riff of "For Tomorrow", it should be evident that Modern Life is a different beast from Leisure. This a more confident Blur piping through the speakers, and a far more Britain-centric one, too. The look inwards at Britain in the 1990s, which would persist until 1997's Blur, results in lyrics with the wit and charm that Leisure lacked. The music retains Leisure's darkness, but the instruments have punch, and Damon Albarn's voice isn't quite as drenched in a reverb reminiscent of It Still Moves-era My Morning Jacket. The guitars are much cleaner, but songs like "Pressure on Julian" utilize effects, although the band is more judicious in their use.  The result is far more cohesive album than Leisure, and the first of Blur's classic mid-nineties albums.  
Score: 4.5 out of 5
Highlights: "For Tomorrow"; "Colin Zeal"; "Chemical World"
Parklife (1994)
Blur's seminal record, Parklife (along with Oasis's debut Definitely Maybe), defined the sound of Britpop and launched Blur into the stratosphere, rightfully so. This is an album with few, if any missteps. The production is tight, the lyrics are pointed, and the melodies are Blur's catchiest. Parklife sounds like a more refined Leisure; the songs that might have made for a disparate album in 1991 make for a flowing masterpiece three years later.  Songs like "Bad Head" and "To the End" feature orchestration that foreshadows songs like "The Universal" and "Tender", while "Parklife" and "Bank Holiday" recall the best of Modern Life is Rubbish. On Parklife, there is evidence of the Blur of 2015: a band that can pull together a series of varied influences and spin a record that sounds unique.
Score: 5 out of 5
Highlights: "Parkilfe"; "Girls and Boys"; "To the End"
The Great Escape (1996)
Perhaps the natural evolution of a band's sound after a massive record like Parklife is to go all out and end up with an overblown mess (see: Oasis's Be Here Now). Yet Blur avoids this trap with The Great Escape. The music is much the same as it was on Parklife; driving, clean guitars, thorough drums, great basslines, with the addition of more classical instruments on "The Universal" and "Ernold Same". There are hints of their self-titled album, such as "Globe Alone" and "Dan Abnormal". Most of the songs reference loneliness, and Damon Albarn later claimed that the album would make a great musical. Aside from a few duds (particularly "Fade Away"), the album is good, but comes so close to great.
Score: 3.5 out of 5
Highlights: "The Universal"; "Country House"; "Stereotypes"
Blur (1997)
If there is a Blur song you know, it's probably "Song 2". This is unsurprising, as its simple refrain ("WOO HOO!") has turned it into a stadium rock anthem. The song, in a two minute span, captures the sound of the album: driving, stuttering guitars, heavy use of the bass drum, and more personal songwriting than their previous work. The album is heavily inspired by American indie rock at the time, and the listener hears early influences of Damon Albarn's later, more famous project Gorillaz ("Essex Dogs" in particular sounds none too similar to "Tomorrow Comes Today" or "Shy-town").
Highlights: "Song 2"; "Death of a Party"; "Essex Dogs"
Score:  3.5 out of 5
13 (1999)
13 is certainly Blur's saddest album, owing largely to the fact that it is Blur's break up album. Written in the wake of Damon Albarn's breakup with Justine Fleischmann, the result is chockful of introspective lyrics and a solitary, spacious sound courtesy of producer William Orbit. Songs like "Tender", "1992", "No Distance Left to Run", and "Trailerpark" are examples of this. Blur's past sound is still present, as seen in songs such as "Bugman". Graham Coxon is more heavily involved in this album, typified by his lead vocal duties on "Coffee and TV".
Highlights: "No Distance Left to Run", "Tender";
Score: 4 out of 5
Think Tank (2003)
Despite his increasing role in the band, Graham Coxon left in the middle of sessions for Think Tank. The album was left largely to Albarn's whim, and it shows. The album is influenced by the sounds that Albarn was listening to at the time, including Middle Eastern and African instruments. It falls into the same trap that parts of The Magic Whip fall into: sounding like a Gorillaz record. The record feels phoned in, and the music suffers because of that.
Highlights: "Ambulance"; "Battery in Your Leg:"
Score: 3 out of 5