Bienvenue en France!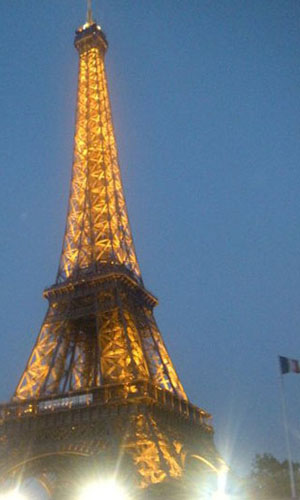 This past summer, French teacher Laurence-Marie Forberg gave all of the French students a chance for the trip of a lifetime. Twenty-five students that were enrolled in French classes went to Paris and the surrounding area for nine days.
"I thought it would be nice to share my country with my students and to make it real and accessible," said Forberg.
The most difficult part of the trip for Forberg was the planning and organizing. "It was as demanding as planning a class. But the nicest thing was seeing the kids speak the language and become more comfortable," Forberg said.
The three main highlights of the trip were Paris, Normandy, and the castles in the Loire Valley.
In addition to the popular areas of France, they also went to small towns where they were forced to use only French.
"Loche was my favorite because it was really pretty and we got to be by ourselves there most of the time. It was a small town so no one really spoke English so I had to speak French," said junior Celia Skvaril.
Senior Tadas Varaneckas said, "The trip helped my French a lot because I had to think in French too, not just speak it. I'd like to go back again. It was really fun."
"I think the trip was good for [the students] because they understood that you have to work hard to speak a foreign language. They also got to make the concepts we learned into action, try the food we have talked about, and some students tried to speak French there, while others felt uncomfortable and didn't try," said Forberg.
"The hardest part was understanding where you were because all the signs and everything was in French," said senior Sarah Devereux.
Forberg is currently planning another trip to Paris, the south of France, Avignon, Nîmes, Nice, and Monaco to take place in June of 2012.
For further questions and information on the upcoming trip, contact Laurence-Marie Forberg at [email protected].