Revenge of the 80's: Movies & TV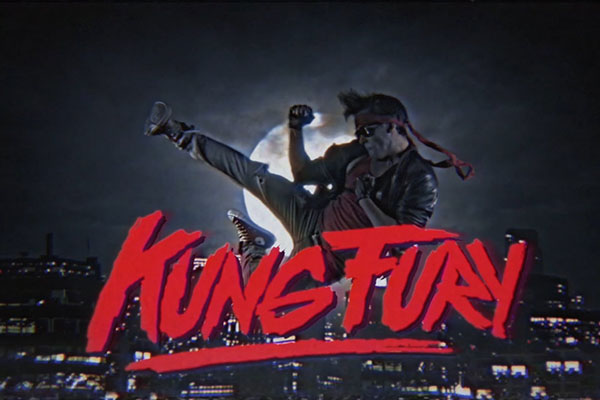 The 80's, what a time to be alive. Dolph Lundgren running around in a loincloth as He-Man, Sunny Crockett and Tubbs arresting criminals with ever so delicious hair and murderous androids like Terminator, Robocop and that thing from 'Chopping Mall', the 80's was overstuffed with great (and not so great) movies and television shows full of camp, babes, and synthesizers. We'll be looking at some notable throwbacks and homages to these greats in the first installment of what I like to call: Revenge of the 80's.
The Danger 5 is a 2012 TV show from Australia about an elite squadron (called the Danger 5) bent on the eradication of the ultimate evil, Adolf Hitler. The first season being a campy, 1960's style romp of the 5 trying to stop Hitler's schemes which include Nazi dinosaurs, robots, and most other Nazi things. Starting with Season two, Danger 5 makes a transition to the 80's with even more absurdity. Hitler, now Johnny Hitler, has become the most popular boy at school and the prom king. More ridiculousness ensues as Hitler is held captive in the Vatican, werewolves armed with machine guns, and the final test for the 5, Hitler's altered ideal future, Hitlerland. Becoming a power rangers-esque team at the end, they eventually defeat Cyber-Hitler forever. If you're into gore, absurd humor and propaganda, check Danger 5. Danger 5 is available for viewing on Netflix.
Much in the vein of late 80's apocalypse films, Turbo Kid is a thrill ride through and through. In the future of 1997, the Earth has become a desolate wasteland ruled by tyrannical leader Zeus who kills and grinds up people to harvest their water. People scavenge and get around on BMX bikes all throughout the wasteland. All The Kid wants to do is survive and collect every remnant of merchandise from his favorite superhero, Turbo Rider. He is followed and befriended by a strange girl named Apple, who Zeus kidnaps while she and The Kid are out scavenging. While fleeing as Apple told him to, The Kid finds the ship and dead body of the real Turbo Rider. Taking his costume and laser shooting Powerglove (s/o to Nintendo), The Kid starts a crusade to get Apple back from Zeus.  Available on Netflix, the stylish coloring, vibrant music and gratuitous violence runs rampant while staying 100% rad throughout. Think Mad Max with bikes meets Tron with excess gore.
Possibly the ultimate love letter to the camp of the 80's, Kung Fury is a successfully Kickstarted Swedish short film that came out last year from studio Laser Unicorns. stars Miami detective Kung Fury, who years before had his partner killed by a kung fu master. Right as the master was about to strike him down, he was struck by lightning and bitten by a cobra at the same time. At that moment he becoming the living embodiment of the greatest style of kung fu ever created by Shaolin monks, kung fury. After destroying a runaway arcade machine, his precinct is called by Adolf Hitler, who shoots through the receiver and kills almost the entire department.  Kung Fury's good friend, Hackerman helps him trace the call. Kung Fury reveals Hitler was the greatest karate master at the height of World War Two, and that he was always after the title and attempting to master Kung Fury. Hackerman helps hack Kung Fury back in time, but hacks him back to far to the age of vikings and laser raptors. He is brought to Nazi Germany by the help of Barbariana and Thor, and proceeds to kill hundreds of Nazis. Hackerman, Barbarianna, Thor and Kung Fury's new partner Triceracop (a policeman with a triceratops head) arrive to aid him. Full of neon, exaggerated actions sequences, cheesy one-liners, absurd characters, synthpop music, martial arts and even David Hasselhoff, Kung Fury is a half hour representation of everything that made the 80's amazing and terrible. Full of fun, violence, absurdity and most of all a focus on everything 'RAD', Kung Fury should be viewed by all.  Kung Fury can be viewed on Netflix and on Laser Unicorn's Youtube channel.