Senior Goodbye: Ethan Gallegos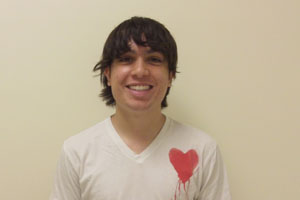 Four years can change a man. When you first step through the doors at RB as a student, you can't help but be overwhelmed with all the things running through your head. But the one thing that stood out was you had the chance to start new and make these next four years what you wanted them to be. You could join clubs, do sports, take AP classes, or simply not do anything at all. No matter what option someone chooses, it's all up to them
My four years here have been nothing less than interesting. I became a vegetarian, played new sports, made new friends, took classes I never thought I'd take, went on a trip to New Orleans through SEE Team, and most importantly I have changed as a person.
I'm not going to go into detail about how I've changed or what my most memorable moment here was, but all I'd like to say is thank you for all the teachers who've put up with me my laziness and have wanted me to do more, thank you RB for making my four years here the best four years I could have wished for. Lastly to all the younger classman, make these four years all you can make them to be and do well with your grades because these four years in high school will fly by, and let me tell you, they do affect your future.