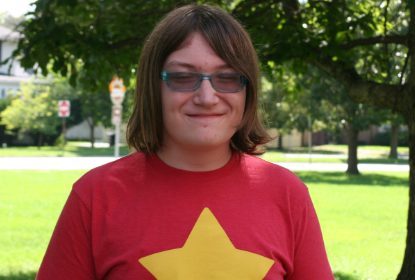 Daniel Fosselman isn't very well known by the major population despite his accomplishments. He's made contact with an alien species of rock people, fought in the Meme Wars of June/July/August 2016 as a covert ops agent responsible for the takedown of the infamous Starkeme and their group, Marad Ertal. He is currently combating the internet's second greatest menace, Griefy and their Reptilian Army. Dan was also involved in creating the revolutionary album,
Synaesthesia Auditiva.
Furthermore, Dan's most distinguished achievement was his co-founding of the Vape Nation \//\ social movement. However, this was all in his imagination. Daniel Fosselman is actually just a freshman at RB who joined Clarion seeing it as something to challenge himself with. He is the official PR manager of the Kyle Platt Fan Club, and hosts the Kyle Platt Fan Club podcasts. His favorite ice cream flavor is mint chocolate chip (Mr. Helgeson encouraged him to include that info),
and is clinically addicted to playing Overwatch (not really though).
He can be contacted at this email:
[email protected]
.
Daniel Fosselman, Staff Reporter
Dec 09, 2019
Dec 03, 2019

Mario Kart Tour is unsatisfying

(Story)

Apr 17, 2018

Ready Player One: A film better than the book

(Story)

Mar 09, 2018

Celeste on Nintendo Switch is worth your time

(Story)

Mar 01, 2017

Nintendo Switch Preview

(Story)

Nov 14, 2016

School Psychologists – The Hidden Staff of RB

(Story)

Oct 05, 2016