THE RED LINE: Before you start hating, look at the other team.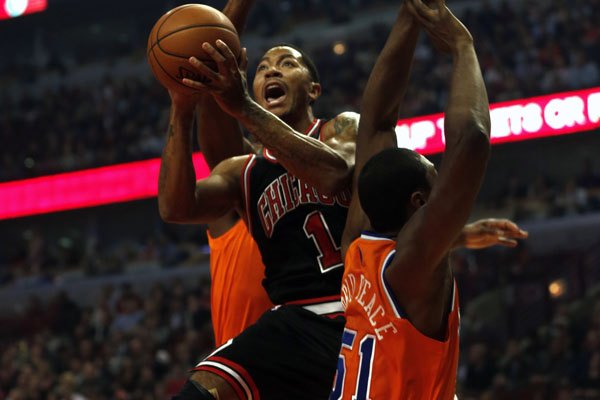 Yes, we are 1-2.
We lost to the two time defending champions, and a team lead by rookie Michael Carter-Williams who is hot and having some beginner's luck. Big whoop.
Let's look at the stats.  The same two-time defending NBA champions, the Miami Heat, are also 1-2 after losing to Brooklyn but double digits. But more importantly they also lost to the same Philadelphia 76'ers team! Do not count out the 76'ers and Michael Carter-William,s ladies and gentlemen. They are in the playoff race for this year.
But now to the Bulls. How have they played? Not quite as I had expected. Rose has not been the explicit leader of this team as he was before the injury. He has been a little too pass happy these past three games, making it seem like he is still adjusting. The real leaders of the team, ironically enough, are Carlos Boozer and Jimmy Butler. Boozer is leading on the offensive end averaging 22.5 points per game thee past three contests, along with seven rebounds and two blocks. Butler on the defensive end of the floor has averaged 3.5 steals per game, and eight rebounds per game.
Over-all the Bulls earned a B- from me. I can see the defense that they have been so famous for playing. I see the heart and I see the aggressiveness. I see the same love and passion that always encompasses the Bulls. But one thing is lacking: shooting. I'm not talking about points in the paint, or lay-ups, or even 15-20 foot jump shots. I am talking consistent spot-up three point shooting. Rose makes a couple every game and so does Deng, but besides that who else? Let's be honest. Mike Dunleavy needs the floor to open within a five foot full circle around him for a shot to come within a yard of the basket. Butler is still working on his game. I have not seen Tony Snell play at all, and they drafted him for spot-up shooting. There is an obvious hole left where Nate Robinson and Marco Bellinelli left.
There has been a rumor around that the Bulls have called the Sacramento Kings about picking up Jimmer Ferdette's contract. I think that could actually work for the Bulls! "Jimmer Range" could be just what the Bulls need to complete the rhythm of the offense.
Ultimately, it is only the third game of the season, and each game the Bulls have gotten more comfortable with their style of play. There are definitely a few kinks to work out. But from the looks of things right now. I think we are well on our way to seeing the Bulls we all cheered for two years ago!