THE RED LINE: Let's get down to business (Part 1)
Life without Derrick Rose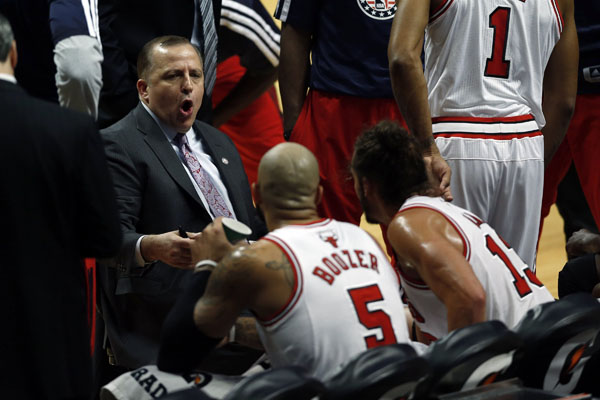 The minute that the Bulls front office heard that Derrick was out indefinitely, Gar Forman held meetings with Jerry Reinsdorf to figure out what the heck they are going to do with this. Options spanning every single direction lay before them. Different strategies abound.  Do we pay the luxury tax? Do we ship off Deng? Even more extreme, do we tank the season?  Do we have too much talent to tank?
For starters, let's look at the statistics. The Bulls have an official total of just over $79 million they are currently spending on their roster. They are very near over the salary cap limit at $80,000,000. The trouble facing them is Rose's contract is guaranteed at $17 million. The next biggest contract they are able to ship off is Luol Deng's at $14 million. This is most likely going to happen if the Bulls don't renew his contract. But how do you spend that extra $14 million dollars? Do you sign another point guard to fill the void of Rose? Do you let Hinrich take his place and sign a swingman? Who is going to get your perimeter points, which the Bulls desperately need.
Or, do you tank?
Personally I hate the idea of purposely tanking; I think it is a scummy way of doing business. Nonetheless, there are ways that you could ethically tank the season.  You go to the Jazz and the Bucks and you say, "Look.  We have the pieces for you."  Trade Luol for a high lottery pick, most likely a top 10.  With that pick, target Adrian Payne or Andrew Wiggins, whichever is available.  With your other picks, fill in for the size you'll be lacking.  Use Boozer as bait to get a young player like Demarcus Cousins.  When Rose comes back next season, you have a four guard rotation:  Rose, Wiggins/Payne, Hinrich, and Butler.  GIbson plays small forward, Cousins power forward, and Noah mans the center.
All of this depends on Deng and how the money shifts around and what we have available. All of these options are open and valid. Unfortunately all I can do is wait until Gar and Jerry get out for that meeting and put into action the plan they never wanted to make.