The Red Line: Well, then…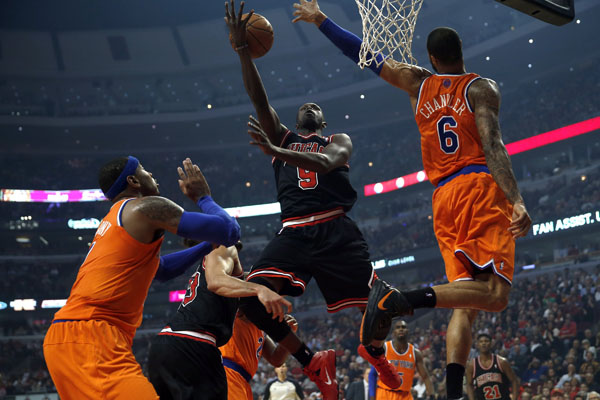 Welcome to the rebuilding process.
It started officially when the Bulls waived new center Andrew Bynum, giving them $20 million worth of cap room and getting under the luxury tax.  What do we do with this?
Luol Deng, traded to the Cleveland Cavaliers, was the best and most consistent player the Bulls had over the last ten years.  What's even sadder is the fact that he did not want to leave.  As recently as two and a half weeks ago, the Bulls had no intention of trading Deng, and the next thing we know, he's gone.  Even now on Twitter, Deng says he did not ask for a $15 million contract and wanted to stay.  Whispers suggest Thibs is mad at Pax, Gar Forman is dispelling rumors left and right.
It's a big mess.
What do we do now? What are the options? We have a spare $20 million dollars and several new first round picks out of the top 10. There's also the Spanish Nicola Mirotic, whose rights belong to the Bulls.  What can our plan of action be?
1.  Pull a Kirk Hinrich, and a couple years later, negotiate Deng down in price and re-sign him when Derrick Rose is fully healed.  Re-make the original team that was supposed to be great.
2.  Leave Deng.  Ship off Carlos Boozer and get as many first round draft picks as possible and completely rebuild the team with Rose, Noah, and Butler as the base.  This draft is supposed to surpass the 2003 Lebron draft ten times over.
3.  Use all the draft picks and Carlos Boozer as trade bait.  Get an Anthony Davis/Jrue Holiday pair.  Or what about Ricky Rubio/Kevin Love?
4.  Play the free agent market.  Convince Carmelo to be a star.  Derrick Rose would become a true point guard and facilitate the office.
5.  Fire Thibs and have a complete and total reset of the team.  I wouldn't recommend it, but, hey, you never know.
There are a million different directions the Bulls could go from here.  Not many more changes will be made around the trade deadline, unless there's an undercover blockbuster deal the front office puts together.  Most of the shifting and actual decision-making will come in the off-season.
Still, this move with Deng tells me one thing.  The NBA Finals appearance I had hoped for as a graduation present won't happen.  Maybe when I'm finished with college…