THE RED LINE: Comeback dosen't credit the grit.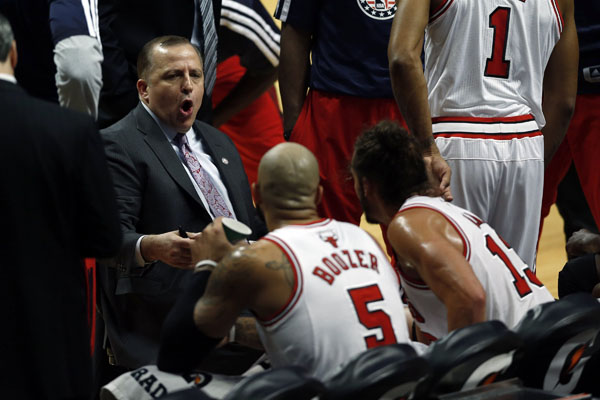 "We want to win, man, winning's important here."
Joakim Noah is exactly right. He is having what most likely will be a second All-Star season. He is the undisputed leader of this banged up team who should not be winning.  With Rose and Deng gone to injury and trade, they should be tanking to move up in the draft.
Yeah, right.  The Cubs will win a World Series before Thibedeau will let that happen.
The Bulls saved their season by signing D.J. Augustine as a facilitator, a true point guard if you will. He now is the piece to feed consistent producers Joakim Noah, Carlos Boozer, Jimmy Butler, Taj Gibson, and Tony Snell. Notice I said all seven of them. Every single one of them scored in double digits in scoring last night versus the Spurs. They played tough nosed defense and kept the lead consistantly in double digits, which is a good thing with the man-crush Thibs has on Greg Popovich.
"To me, the mark of greatness is to have the ability to do it year after year, and he's done that. Their organization, they're the gold standard — from everything they do. Every aspect of how they run an organization," Thibedeau said after the game.
He wants his Bulls team to become like the Spurs and have their mentality. Thibs believes that no matter what team the Bulls are facing or what situation, they hustle and work hard and remember their fundamentals.  If they do that, they WILL win no matter what.
On  this road trip to the West Coast they will have a legitimate chance to win each game. The Hornets are Anthony Davis-led whom Joakim Noah will shut down. Both the Kings and the Suns pose no serious threat. Neither will the Lakers; with Nash and Bryant out they really have no weapons. The only test will come versus Stephen Curry and the Golden State Warriors. But if the Bulls outsize them and out hustle them they will win also, quite handily.
I think that if we keep playing like this – with a nobody-can-beat-us attitude – we will win. We will win not only in the regular season, but deep into the playoffs as well. We have that much resiliency and grit.
In the words of LL Cool J, " Don't call it a comeback.  We've been here for years."