The Red Line: Noah's interview aspires hope for second half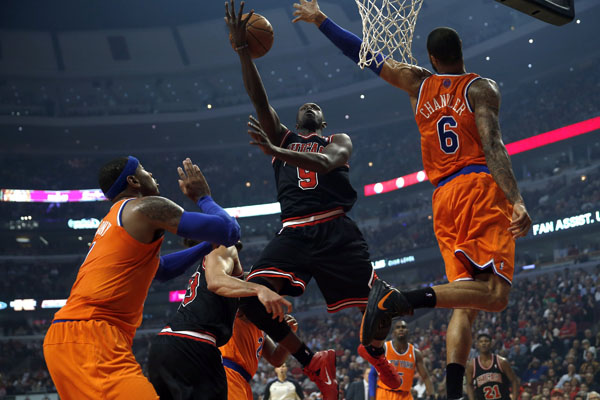 An interview on Sports Center is hard to come by. You have to either be in a scandal or on a record breaking run or have just won a title. I guess Joakim Noah has been having a monster year. A near triple-double average and a second All Star appearance is not too shabby, but I wouldn't call it record-breaking. Yet for some reason he is on there, and talking Tom Thibodeau's philosophy. We want to win a championship, and we will do whatever we can to win.
Now looking at the Bulls at the halfway mark solely by statistics, that claim might not work out. The Bulls are 27-25, 13 ½ games behind Indiana for the Central Division title. They are sitting in third place in the Eastern Conference a half a game ahead of the Toronto Raptors, thanks to last night's stellar win. Not to mention they also have one of the toughest schedules down the stretch in the entire NBA. With no probable trade in sight at the deadline we will have the same, half-beaten up team we normally have night in and night out. This rag-tag bunch of men will have a daunting task ahead of them.
But they can do it.
Joakim has become very nearly a superstar. Hinrich, Gibson, Augustin, Boozer, and Snell are consistent in every stat category every night. And guess what. We are guaranteed to make the playoffs. There's really no way we're not. It is a possibility that we could get Derrick Rose back, no matter how much "worse" he'll be than his previous form. He is Derrick Rose, a phenom in every sense of the word. And if he get's geared up for the playoffs, the Bulls can and will be dangerous.
Now some people say they are done, and won't make a splash till we get another superstar. That is very modern thinking. Where and when did we stear away from the main point? Thibodeau has set up a team to be the antithesis of that philosophy. It is an old style Gregg Poppovich team. You can win on any given night versus any team. It does not matter who it is or how much fire they've got if you out hustle the other team and stick to your fundamentals. There is no way you cannot win.