The Red Line: The Real MVP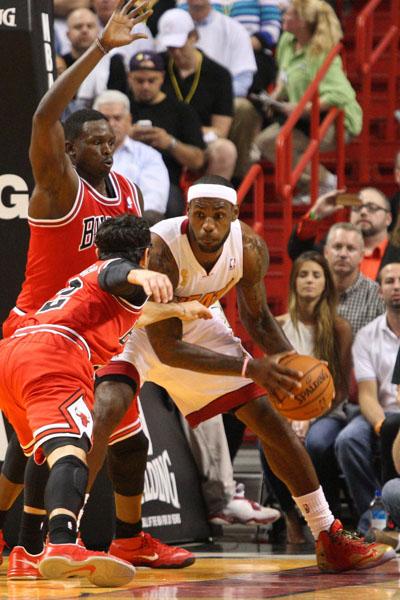 ESPN learned its lesson never to interview Yannick Noah during his son's game, especially when his son Joakim is playing out of his mind. While this so called "interview" was going on, the Madhouse on Madison was erupting in cheers that once they gave Derrick Rose.
MVP!  MVP!  MVP!
He is worthy of every single one of those chants, and much much more. Basically he has three main competitors:  Lebron James (27 points, 7 rebounds, and 6.5 assists), Kevin Durant (31 points, 7.7 rebounds, and 5.6 assists), and Kevin Love (26 points and 13 rebounds). Noah is averaging some very different numbers – 12 points, 13 rebounds, and 5 assists. His stats are much more spread out. Even though he is a center, critics might say his point total isn't high enough. But if you look at the MVP award from the way it is supposed to be looked at, he has a case.
The MVP is the "Most Valuble Player" not the "Best Player in the League" award. If Lebron James were to get injured tomorrow, the Heat would be able to keep going in hopes of a championship. Same thing with the Thunder; The Timberwolves never really had a shot a championship in the first place. But if Joakim Noah were to be injured for the Bulls, the chances of them winning would shoot down to zero. And that is what the MVP race needs to be based on. There is also debate about him being first team all NBA over Dwight Howard. That is another debate. But as of right now I would answer that question as a yes.
The Bulls are definitely in a good place right now. They are winning games and playing well together as a team. Both Miami and Indiana have shown holes. Not only have the Bulls beaten both of them, but both teams are on losing streaks. If they keep showing these holes, we might, just might, see ourselves in a game seven in the Conference finals.