The Red Line: Who would you rather face?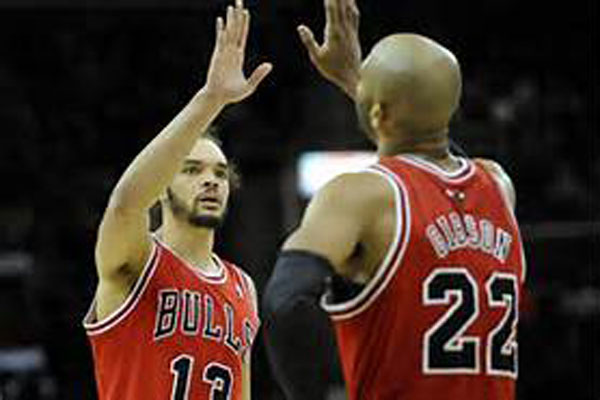 If you had the choice, what would you want the Bulls' playoff matchup to be?  Be realistic because there is no way the Bulls will now achieve the number one seed, but anything between a third or fourth seed is a viable option.  Surviving the NBA playoffs can be matchup dependent; who you play determines whether you get through the first round or not.
Third Seed:
The Bulls are currently in a tied race with the Toronto Raptors.  If they win out, they will have probably the most favorable outcome.  In the first round, they would face the Washington Wizards.  The Wizards are led by John Wall and… that's about it.  The Bulls will get past the Wizards in five or six.  In the second round, they would most likely face the Pacers, which would be a bloodbath of a series.  If they could pull it out, they would face Miami in the conference finals.  Again.
Fourth Seed:
If they lose the race with the Raptors, this is where they will end up.  This is the most undesirable situation for the Bulls to be in.  The first round match up would be with the Brooklyn Nets, where they are so many mismatches for the Bulls offensively that it would literally create chaos.  In the second round, the Bulls would get Miami, fresh off an insanely hard series with the Nets.  I know Joakim Noah hates everything about Miami, but there is no viable way that I see them getting through.  Don't get me wrong.  They will put up a fight, but if they can get out of that second round, they would then likely have to face Indiana.
Obviously, the third seed is more preferable.  Whatever the case may be, Noah isn't letting the opponent down easily.
"I think losing games just to play somebody is soft.  We're not soft," he said.
Don't count the Bulls out.  You might still be surprised how far they can go this year.