THE RED LINE: Tough choices in the off-season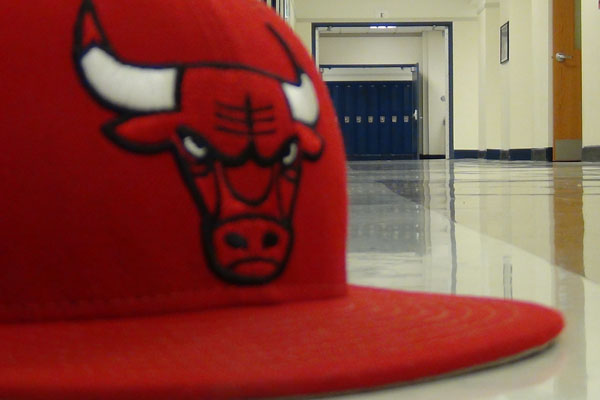 The Bulls are in an extremely flexible position currently. So many possible free agents are available, and some whole teams are up for grabs (i.e. the Heat and the Lakers). This upcoming draft is one of the deepest since Lebron James's class of 2003. And the Bulls are right in the middle of it. Free agents want to come here to help win a championship, the Bulls have not one but two first round draft picks, and one in the second round, and they have the ability to mold their salary around however they would like.
One of the most influential people within this free agent class is Carmelo Anthony. Looking for a championship, it's between us and the Knicks for this man's explosive offense and his massive contract. He will be the key to the Bulls' off-season; everything revolves around him. So naturally, I have here two step-by-step guides as to what steps the Bulls should take this off season. One with Carmelo, one without.
Bulls' Plan with 'Melo:
Amnesty Boozer:
This movie is key in both options.  He has a $15 million dollar salary and his numbers are on the decline.  It's time to cut him loose and use his money elsewhere.
Release the Bench:
Let go of Brewer, Smith, Mohammed, Amundson, and James.  None of them played in the playoffs and they don't really work in Thibs's rotation.
Draft #1:
Take PF Adrien Payne with the 14th pick.  He's an Elton Brand-type player who can back up Taj Gibson.  He's big, tough, physical, and could provide 20/10 if he gets a good amount of playing time.
Draft #2:
Take SG Zach Levine with the 19th pick.  He's a quick shooting guard who can drive but who also has a jump shot and can play decent defense.  He would fill the role behind Captain Kirk and Jimmer.
Depth:
Sign Greg Oden and Chris Andersen from Miami for veteran minimums.  Both are athletic and physical.  Oden could back up Noah and Andersen could play behind Taj and Payne.
Melo:
With whatever money you have left, sign Carmelo Anthony from the Knicks.
The Roster:
(* denotes starter)
*Derrick Rose
*Jimmy Butler
*Carmelo Anthony
*Taj Gibson
*Joakim Noah
Kirk Hinrich
Jimmer Fredette
Mike Dunleavy
Adrien Payne
Greg Oden
DJ Augustin
Zach Levine
Tony Snell
Chris Andersen
Without 'Melo:
Amnesty Boozer:
Again, his salary is too big for his age and lack of production.
Release the Bench:
Same as above.
Draft #1:
Take Adrien Payne at #14, still to back up Taj.Draft #2:
At #19, take SF Rodney Hood to replace the spot Carmelo would have taken.
Next Best Thing:
Sign Pau Gasol and have him back up Joakim Noah.
The Roster:
(*denotes starter)
*Derrick Rose
*Jimmy Butler
*Mike Dunleavy
*Taj Gibson
*Joakim Noah
Kirk Hinrich
Jimmer Fredette
Tony Snell
Adrien Payne
Pau Gasol
Rodney Hood
DJ Augustin
Yeah, inevitably, the second team would have a slightly worse record than the first one. But it has its merits. We would be in a better situation financially for one thing. Two we would still be a championship contending team. Either way we would have a "Bench Mob" again along with a starting line-up that with or without Carmelo is pretty dangerous. Whatever ends up happening though, expect great things from the Bulls next year.
For the final time Bulls fans, this is Jeremy Baartman. See Red!