Bulls cruising(6 straight wins)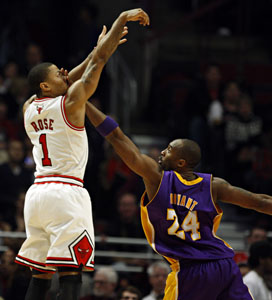 After losing to the Orlando Magic and the Boston Celtics, two Eastern Conference contenders, the Chicago Bulls have won six straight games.  The Bulls are on a roll right now, and they need to be.  The Bulls are 15-8 and are in first place in the Central division.   
The Bulls have defeated the Houston Rockets, Oklahoma City Thunder, Cleveland Cavaliers, Los Angeles Lakers, Minnesota Timberwolves, and the Indiana Pacers in their past six games.  The Bulls started this run with a win against the Rockets 119-116.  They then defeated the Thunder at home 99-90.  The Bulls traveled to Cleveland to beat the Cavs 88-83.  Then they came back home to finish off Kobe Bryant and the Lakers in a thrilling 88-84 win.  Derrick Rose hit a game winning shot from the left elbow of the key to put the game out of reach for the Lakers.  The Bulls then went on to beat the Timberwolves 113-82 and the Pacers 92-73.
Rose has been cruising since the return of Carlos Boozer.  Rose is averaging 24.7 points, 4.4 rebounds, 8.3 assists, and shooting 46% from the field this season.  Boozer is averaging 15.5 points, 8 rebounds, and shooting about 50% from the field in the eight games he has played in this season. 
If Rose and Boozer can keep up this play they can extend their winning streak in the next three weeks.  For the next three weeks the Bulls play opponents who have a record of under 500.  All of the upcoming games are winnable for the Bulls.  These are the games that the Bulls must win in order to get ahead while it is easy. 
The Bulls play the Toronto Raptors Wednesday night at seven in Toronto.