Bulls take lead in East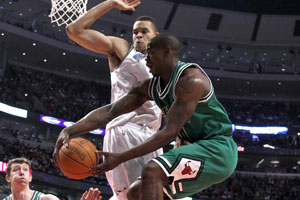 After last night's win at United Center against the Washington Wizards (16-50), the Chicago Bulls (48-18) jumped into sole possession of first place of the Eastern Conference, a half game ahead of the Boston Celtics. This win extends their win streak to seven games in a row.  
At home, the Bulls have an impressive 30-4 record, the NBA's second best home court record.
Chicago despite missing two key starters in Joakim Noah (flu) and Carlos Boozer (ankle), managed to win. Leading MVP candidate PG Derrick Rose put up 29 points, 7 assists, 4 rebounds, and 2 steals. The Bulls were also supported by Luol Deng who scored 20 points and Keith Bogans adding 17 points of his own.
The team is quickly establishing themselves as a team to be reckoned with in the Eastern Conference. Former player and the legendary Michael Jordan said at ceremony held last game against the Utah Jazz that, with this team, the Bulls could be adding six more rings to their resume.