Boys tennis: New season, new team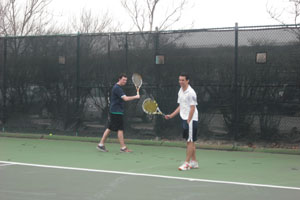 On Monday, February 28 the boys' tennis team officially began their season. Boys' tennis is a no cut sport, so practices began right away. The team will have their first match on April 5th. They will have a jam-packed season with 25 matches in 35 days.
Captains have not been picked, but the team has concluded that seniors Bradley Wilson and Luke Jebb are leading the team. This year's team is younger than most, being made up of only four seniors, when in years past, the majority of the team were seniors.
 Coach Tom Fuller said, "It's a rebuilding year because it's not a senior led team."
The team is hoping for twenty three participants, but the musical and other sports are interfering with the total number. Eleven will be playing for Varsity, while the remaining members will be playing for the JV team. Fuller also says that three sophomores will be playing with the varsity, which is unique for the program.
Junior Jack Kemper said, "Compared to last season we lost a lot of depth and this season will be a lot different from previous ones."
The team is expecting it to be a tough year with all the new competition. Glenbard South, the newest competitor, will give RB a good fight because Fuller believes they have a good program. He said, "They have a good chance to compete well, but they will just have to see what the season brings."
 Returning junior Aron Perfect said, "I'm excited for the season because I know RB will step up to the new competition. We have strong players and hopefully we'll be able to adapt to any difficulties the season may bring."