Grads VandeMerkt and McGonagill still ballin'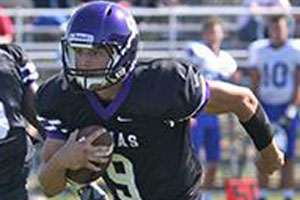 When student-athletes wrap up their senior year, most go through the difficult task of hanging up the cleats for the final time. For those talented few, they receive scholarships and continue their athletic journey through college. RB has witnessed the growth of many incredible athletes, but none more special than Billy VandeMerkt '10 and Sean McGonagill '10.
VandeMerkt was a three sport athlete at RB, competing in football, basketball, and baseball. Even though he was extremely successful in all three sports, he was truly a star when he stepped on the gridiron.
 After taking over the starting job in week four of his sophomore year, VandeMerkt's career really took off.
 He was named All-State twice, while throwing for more than 3,400 yards and 36 touchdowns in only 10 games his junior year. He was recruited by several D-1 schools including Western Michigan and Northern Illinois, but in the end, decided to attend St. Joseph's College in Indiana.
He flourished the second he stepped on campus by starting in four games under center as a true freshman. He completed 65 percent of his passes while throwing for seven touchdown passes and running for five more. After a promising start to his college career, VandeMerkt was named the Freshman of the Year in the Great Lakes Valley Conference.
It seems as if VandeMerkt has made the transition to college football with ease.
"College sports are very different from high school sports, it's a greater commitment. You are held to a higher standard on and off the field," said VandeMerkt.
After a summer of hard work, VandeMerkt was named the starting quarterback for his sophomore campaign. Even though the team has struggled in an 0-4 start, it certainly isn't because of poor quarterback play. In two games, he has completed almost 60 percent of his passes, along with over 1,100 yards and seven touchdowns.
It will be interesting to see how VandeMerkt progresses throughout his collegiate career.
McGonagill, a hoops legend here at RB, made an immediate impact at Brown University by being named a starter as a freshman last year. The 6-1, 180 pound guard played in twenty eight games while averaging 11.8 points per game. Last February, in a win against Columbia, McGonagill scored a record breaking 39 points while shooting 15 of 19 from the field. His 39 points were the sixth most points ever scored by a Brown player, and the most points scored by an Ivy League player since 2003.
In addition to his record setting performances, McGonagill was named the Ivy League Rookie of the Year. He was only the fourth Brown player to win this award.
It could be argued that McGonagill was Brown's best player last season. He led the team in minutes played, at over 33 a game, while being the only player to start in all 28 games. He also set the freshman record in assists with 147, and recorded 2 double-doubles against Yale and Penn.
It's safe to say that the future is bright for both of these former RB stars.
SPONSOR'S NOTE:
We've corrected this article to show both athletes as graduating in 2010. -D. Mancoff